Twin car bombs kill six in Baghdad
( 2003-10-13 09:08) (Agencies)
A two-car suicide bomb attack aimed at a hotel used by U.S. officials on central Baghdad's main street killed six Iraqis and injured dozens on Sunday.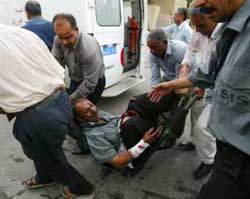 A wounded man is brought to a hospital for treatment after a car bomb exploded on a central Baghdad street Oct. 12, 2003. [Reuters]

The attack deals a further blow to President Bush who is trying to bolster support for his invasion of Iraq by highlighting postwar successes. Polls show his popularity tumbling as the cost of the war in lives and money mounts.

The blast shortly after midday shook buildings and shattered windows blocks away. Thick smoke poured into the sky and sirens wailed as ambulances and fire engines rushed to the scene.

"I saw limbs and pieces of flesh everywhere," security guard Kahin Hussein said. "The U.S. soldiers were picking them up off the floor."

The attack took place exactly a year after the bombing of two nightclubs on the Indonesian island of Bali which killed 202 people and three years to the day after an explosives-laden rubber raft rammed a U.S. destroyer in the Yemeni port of Aden, killing 17 U.S. sailors.

U.S. military spokesman Lieutenant Colonel George Krivo said two saloon cars crashed at high speed through the security barrier at the heavily fortified Baghdad Hotel and exploded.

He said both American and Iraqi security guards opened fire on the vehicles and averted a far greater tragedy by stopping the cars reaching the hotel entrance.

"The cars swerved around and attempted to avoid the checkpoint and then there was a detonation and an explosion," he told reporters.

Krivo said it was unclear if both cars were packed with explosives or if one of them was a decoy to breach security barriers so the other would have a clear run at the hotel.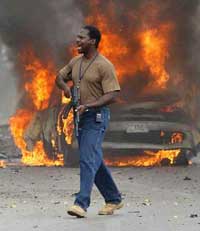 An unidentified armed gunman rush to the scene after a huge explosion believed caused by a car bomb rocked central Baghdad near the Baghdad Hotel, which is thought to be an office of the U.S. Central Intelligence Agency in the Iraqi capital, Sunday Oct. 12, 2003. [AP]

The hotel is widely thought to be used by members of the CIA, officials of the U.S.-led coalition and their Iraqi partners in the Governing Council as well as U.S. contractors. A U.S. official in Washington said: "It is not a CIA facility."

Lying in a hospital bed in a bloodstained vest and shorts, hotel guard Ali Adel said he had opened fire on the car as it sped toward the hotel. "I took two shots at it and then it blew up," he said.

Iraqi police chief Ahmad Ibrahim said he suspected supporters of ousted president Saddam Hussein or guerrillas of the militant Islamist al Qaeda group. "They thought if they did this the Americans would be afraid and leave Iraq."

ROADSIDE BOMBS

Attacks on U.S. troops in Iraq have killed 94 soldiers since Washington declared major combat over on May 1. Bombs have targeted the United Nations, the Jordanian embassy and a hotel used by U.S. media. Iraqis seen as cooperating with the U.S.-led administration have also been targeted.

Earlier on Sunday, a roadside bomb struck a convoy of three civilian vehicles in central Baghdad, injuring five Iraqis, including a Shi'ite cleric, witnesses said.

When U.S. forces sealed off the area, a crowd gathered and an Iraqi teenager lobbed an explosive at a U.S. Humvee armored vehicle. One U.S. soldier was slightly injured.

Another roadside bomb exploded outside a U.S. base in Saddam's home town of Tikrit on Sunday wounding three soldiers, one seriously, an Army spokesman said.

Washington is pushing for a new Security Council resolution giving the United Nations a broader mandate to try to persuade reluctant countries to help in stabilizing Iraq.

Secretary-General Kofi Annan has said the United Nations cannot play a political role in Iraq under the terms envisaged in the current draft U.S. resolution. France and Russia have said the draft should include a road map for a faster handover of power to a sovereign Iraqi government.

"We are still waiting to see the new draft resolution," French President Jacques Chirac told reporters on Sunday after talks with German Chancellor Gerhard Schroeder. "We hope that a new dynamic will appear in the new resolution that will better reflect our requirements," Schroeder added.

Turkey has agreed to send troops, but Iraq's Governing Council, handpicked by Washington, is resisting the move, saying neighboring countries have too many of their own strategic interests in Iraq to be peacekeepers.

Annan has agonized over staff safety in Iraq since an August 19 suicide bomb attack on the U.N. headquarters in Baghdad killed 22 people and a second bomb attack on the compound last month killed an Iraqi policeman and wounded 19.