China guards against possible SARS resurgence
( 2003-10-13 08:58) (Xinhua)
A recent sudden temperature drop in most areas of China has sparked fears of a possible return of severe acute respiratory syndrome (SARS) and the country has mobilized to prepare for another outbreak.
North China's Tianjin Port resumed a temperature reporting system on Sunday. Any passengers through the port with a temperature above 38 degrees Celsius would be provided medical observation and reported to relevant authorities.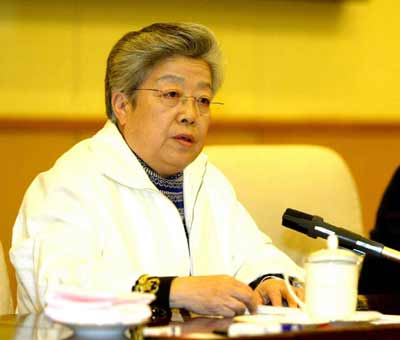 Vice-Premier Wu Yi says more measures should be taken to prevent SARS resurgence at a national meeting October 9, 2003.
At a symposium on respiratory diseases and SARS in Beijing, an authoritative epidemiologist warned of the resurgence of SARS, but predicted no widespread epidemic outbreak.
It was unlikely the SARS virus would die out naturally and it would definitely come back, said Zeng Guang with the China Disease Control Center.
"But the scale of the epidemic depends on the control measures we take," said Zeng.
Zhong Nanshan, a prominent anti-SARS scientist during the last outbreak, agreed the disease would return this winter. However, with the strict reporting mechanism and experience from the last crisis, the epidemic would not cause serious damage again, he said. Zhong is an academician with the Chinese Academy of Engineering from south China's Guangzhou City.
Caught unprepared this spring, Chinese authorities have learned to act quickly before the epidemic can take a hold.
Chinese Vice-Premier Wu Yi Thursday urged strictly implementing the daily SARS epidemic reporting system and warned that people delaying reporting or hiding the true situation would be severely punished.
In Beijing, the disease control center in Dongcheng District has resumed a 24 hour schedule for possible epidemic breakout. Every afternoon before 3:00 o'clock, the center receives SARS reports from every hospital in the district and then reports to the Beijing municipal disease control center and health bureau.
In Beijing Xiehe Hospital, plans are ready for fever patients to receive treatment in a special section. Doctors in that ward, wearing protective clothing, will observe patients for any possible respiratory diseases. Patients with high fever and symptoms of respiratory diseases are required to be observed for one or two weeks.
North China's Shanxi Province and Inner Mongolia Autonomous Region, the two other hardest-hit areas in the last SARS crisis, have both set up an emergency response mechanism and mobilized all concerned departments. The system has also been set up in rural Inner Mongolia.
People are urged to pick up again the healthy habits they formed during the last SARS outbreak. Zhong Nanshan said the most important way to prevent SARS was to play more sports and maintain good ventilation. Spitting in public and eating wild animals were very dangerous, said Zhong.
Zhong also suggested influenza vaccinations in a bid to better diagnose SARS as people are most vulnerable to SARS-like flu in autumn and winter.