Minister: Six-party talks should continue
( 2003-10-13 08:07) (China Daily)
Chinese Foreign Minister Li Zhaoxing expressed the hope to his American counterpart yesterday that six-party talks on the Democratic People's Republic of Korea's (DPRK) nuclear programme would continue.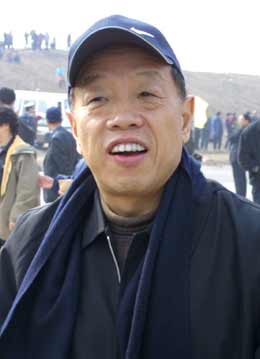 Li Zhaoxing

Li emphasized his desire to US Secretary of State Colin Powell that multi-party talks reconvene as soon as possible, Xinhua News Agency said.

Li and Powell hope "the momentum of the Beijing six-party talks will continue", it said.

China and the United States are two of six nations trying to resolve the nuclear dispute between Washington and Pyongyang, which erupted in October 2002 when the US said the DPRK had admitted having a secret nuclear programme. The other countries are the DPRK, Russia, Japan and South Korea.

Six-party talks in August produced no concrete results, and China is vocally advocating new talks, although no date has been set. The DPRK has said it wants Japan barred from future summits.

Li and Powell also discussed on telephone the continuing volatile situation in Iraq, with the former saying the United Nations (UN) must "help the country regain sovereignty as early as possible".

Powell briefed Li about the recent developments on a draft resolution on Iraq put forward to the UN Security Council by the US.

Li said it is necessary for the UN to pass a new resolution and help restore sovereignty to the Middle East nation as early as possible.

The resolution should give the UN a bigger role in Iraq. China expects the relevant parties to narrow their differences and reach a consensus in the near future.

Li also said Sino-US relations were showing strong development momentum on the whole; and China appreciated the US' reiteration of sticking to the one-China policy and the three China-US joint communiques; and of opposing any moves towards Taiwan independence.

Li expressed the hope that the US would consistently keep its promises and accordingly handle various issues relating to Taiwan; and keep up the healthy momentum of bilateral ties.

On October 20 and 21, Chinese President Hu Jintao is scheduled to meet US President George W. Bush during the Asia-Pacific Economic Co-operation (APEC) summit in Bangkok, Thailand.

The meeting will be "a great event for China-US relations", Li said, stressing that the two sides should make adequate preparations to ensure that the meeting yields solid results.

Powell agreed with Li and said the growing momentum of US-China relations is satisfying; and that Bush is committed to improving ties with China. The US will uphold the one-China policy and the principles of the three joint communiques, in addition to opposing any independence moves by Taiwan, he said.