Nation feels sudden chill
( 2003-10-13 08:05) (China Daily)
Strong cold air from Siberia has swept across China and caused temperatures to drop as much as 10 C in some regions, as early snow has dusted the Great Wall and area mountaintops.
The good news is that State Meteorologic Observatory forecasters said cold front has passed by North China and temperatures will warm up on Wednesday across most of the nation.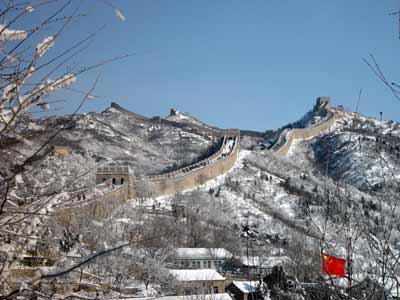 rare autumnal snowfall at the Badaling section of the Great Wall in Beijing
Statistics from the municipal meteorologic observatory showed rain has lingered for 50 hours in and around Beijing since Friday, rare in the history of the capital throughout the same calendar period over time.
And Beijing residents found the temperature drop over the weekend even sharper than some locales, with temperature down to 3 C yesterday morning said Li Yanxiang, a State Meteorological Observatory expert. Even the afternoon high reached just 12 C yesterday, Li said.
Snowfall has been seen on some mountains, including the Western Hills and Badaling.
The cold brought more business to the capital's hot pot eateries, area restaurateurs said.
At Beijing Jinshancheng Hot Pot Restaurant, a larger than normal crowd jammed tables over the weekend, an employee told China Daily.
In Shenyang, the capital of Liaoning Province in Northeast China, snow fell in the wee hours yesterday after some 30 hours of rainfall, the Xinhua News Agency reported.
Local meteorologists said the snow is half a month earlier than normal.
In the south, the middle and lower reaches of Yangtze River have also seen acute cooling,, with an average 8 C to 13 C drops since Saturday, Li said.
And the cold air current will cast its influence on South China starting today.
In another weather-related development, the Yellow River is experiencing serious autumnal floods this year, the China News Agency reported.
Though flooding began some 40 days ago, the Yellow River may continue overflowing for another month, the report said.
The runoff flowing into the lower reaches of the river remains high this month, with a total 2 billion cubic metres of water so far.
Xinhua reported that some 38 billion yuan (US$4.6 billion) would be invested in flood control projects along the Huaihe River in the coming five years to better contain the flood-prone areas.
Half of that investment will be spent in Anhui Province alone, where most of the river runs, local officials said.
Construction of dozens of water control projects, which were once deserted in the 1950s because of financial difficulty, will be resumed in provinces along the river.
The new investment plan includes waterlogging prevention projects, civilian relocation and water diversion and drainage projects.
Official figures show heavy flooding has claimed at least 16 lives and caused 18.17 billion yuan (US$2.2 billion) of direct economic losses in Anhui, Jiangsu and Henan provinces.