Space center ready for manned spaceflight
( 2003-10-13 08:02) (China Daily)
Deep in the vast and mostly unpopulated Gobi Desert, China's launch base is quietly awaiting the country's first-ever manned space flight.
A Long March II F carrier rocket stands at the site in the Jiuquan Satellite Launch Centre in Northwest China's Gansu Province.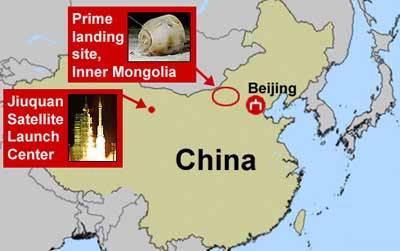 China is counting down to its first manned space flight, scheduled for sometime between Wednesday and Friday.
Since the spring of 1958, Jiuquan -- a remote area near an ancient Great Wall ruin -- has grown into China's largest satellite launch centre.
China's first satellite blasted off from there, as did the first four unmanned spacecraft.
A river named Ruoshui runs in front of the town, making it an oasis. Red willows and elms stand along both sides of the streets while colourful bushes are dotted here and there.
To store water, a man-made reservoir covering 10 square kilometres was built in the town.
Street lamps at the main avenue, Chang'an Street, each looking like a spaceship atop a rocket, are part of the space flight features that can be found throughout the town.
In small restaurants, young space technicians and scientists are often seen when projects are under way at the base.
Northeast of the launch base are the graves of more than 500 people who contributed to the country's space cause, including the late founder of China's space programme, Marshal Nie Rongzhen.
A new look
The desert around the Jiuquan Satellite Launch Centre has been turned into an eco-friendly town with flowers, grass and other plants thriving in late autumn.
More than 60 oases have emerged in the desert since the centre was founded.
It is hard to imagine a riverside town with flourishing vegetation appearing in the extremely arid desert where the annual rainfall is 40 millimetres, while the annual evaporation is over 3,600 millimetres.
Zhang Yujiang, deputy director of the centre, said the authorities at the centre have made the improvement and protection of the local ecological environment a priority.
The centre has made efforts to preserve natural bush and wood plantations through irrigation, fenced cultivation, fire prevention and the treatment of diseases and pests harming the poplar forests. The centre has invested heavily to build three separate zones in the town -- the launch technological zone, the red willow and poplar zone and the urban zone -- to create unique scenery and a pleasant habitat.
The centre now has the Dongfeng Natural Park, the Railway Park, a sculpture park and a swimming pool. It is also building a World Park.