See Arnold Run!
( 2003-10-10 14:31) (Agencies)
He may have abandoned the silver screen for the California governor's mansion, but Arnold Schwarzenegger's movie days are not behind him.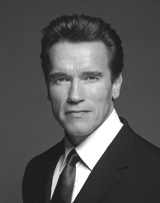 A&E Network said it is developing a two-hour movie entitled "See Arnold Run," based on Schwarzenegger's successful gubernatorial bid.
The movie should be ready in late summer 2004, according to the cable network known for its "Biography" series.
Calling the action-movie actor and former bodybuilder "one of the most charismatic, recognisable figures on the political landscape today," A&E Senior Vice President of Programming Robert DeBitetto said: "In many ways an icon of the American dream, Schwarzenegger was driven to international stardom and success by an unwavering sense of ambition."
The Austrian-born Schwarzenegger, who rose to fame as a bodybuilder and star of "Conan the Barbarian" and the "Terminator" movies, won the state's top office after a campaign that brought up widespread allegations of sexual harassment in his past.
According to an article in The Hollywood Reporter, casting decisions by A&E would not be made until a script is completed, but it cited sources saying the network has a wish list of actors, including Dennis Quaid, Viggo Mortensen, Willem Dafoe and Billy Campbell.