Koizumi dissolves Parliament's Lower House
( 2003-10-10 11:01) (Agencies)
Prime Minister Junichiro Koizumi ordered the lower house of Japan's Parliament dissolved Friday, paving the way for national elections that he's counting on to strengthen his party.
The dissolution places the 480 seats of the powerful lower house up for grabs. Koizumi is expected to set Nov. 9 as the date for the balloting.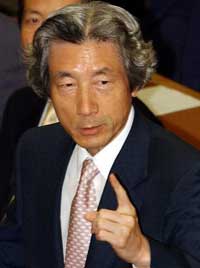 Prime Minister Junichiro Koizumi speaks back to opposition leader Naoto Kan during a Parliamentary debate in Tokyo Thursday, Oct. 9, 2003. [AP]

The order was issued after a morning Cabinet meeting, Japan's public broadcaster NHK and the Kyodo news service said. It will formally take affect after its read to the lower chamber chamber Friday afternoon.

Before that, the charismatic prime minister wants a bill extending Japan's military support of the U.S.-led war on terrorism in Afghanistan passed. The bill was expected to be approved Friday.

Koizumi's ruling Liberal Democratic Party already controls a majority in the chamber, with 244 seats. The largest opposition bloc, the Democratic Party of Japan, has 137 seats.

Although Koizumi, fresh from a landslide re-election as ruling party president, enjoys support ratings of around 60 percent, he has been dogged by Japan's lingering economic woes and criticism within his own Liberal Democratic Party of his reform plans. Some party members fear the reforms will alienate important interest groups.

Opposition leaders pounced on this weakness Thursday in the last day of face-to-face Parliamentary debate.

They hit Koizumi over his failed promise to privatize the postal service and the weak economy, while challenging his strong support of U.S. President George W. Bush's position on Iraq.

Takako Doi, head of the Social Democratic Party, accused Koizumi of deliberately obscuring details of planned Japanese military and financial support for Iraqi reconstruction so that the unpopular issue won't become a focal point during the elections.

Koizumi defended his policies and maintained that lawmakers from his bloc were unified behind them too.

"My platform will become the platform of the LDP when elections are held," Koizumi said. "Party members may debate among themselves, but don't worry ¡ª in the end they will cooperate with my policies."

Koizumi set the bar low for the upcoming elections ¡ª telling reporters on Wednesday he merely wants to retain a simple majority of the lower house's 480 seats.

But for Koizumi, the elections offer a chance to solidify both his leadership in the LDP and the standing of his party against a regrouping opposition.

In anticipation of the elections, Japan's two largest opposition blocs merged late last month. They have been playing against Koizumi's push to support the war in Iraq.

Bush, who is scheduled to visit Tokyo next week, is urging Koizumi to send troops to Iraq and to chip in billions of dollars to the U.S.-led reconstruction effort.

Japan is likely to do both, but concerns are high that Japanese troops, although restricted to non-combat roles, could be injured or killed unless the situation in Iraq becomes more stable.

Koizumi's party will also face a high-profile challenge from former Foreign Minister Makiko Tanaka, an outspoken conservative and one of the few politicians in this country who can rival his popularity.

Tanaka, the daughter of a former prime minister, became the first woman in Japan to head the foreign ministry when Koizumi named her to his first Cabinet in April 2001. But she was pushed out after becoming bogged down in a public brawl with her subordinates and later resigned from Parliament over a funds misappropriation scandal.

Cleared of any legal wrongdoing, she announced this week she will try to regain her seat, but will run as an independent.