Shanghai reworks one-child rules
( 2003-10-10 10:38) (eastday.com)
Shanghai People's Con-gress is debating changes to the city's rules of the "one-child policy" that would allow some couples to have a second child without waiting for four years between births and divorced parents more opportunity to have a child in a second marriage.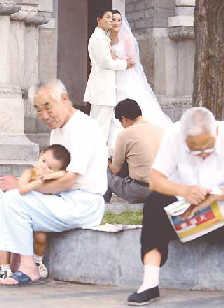 A young couple poses for a wedding photo session in front of a church in Beijing, while an elderly man enjoys the company of his grandchild. Problems, aside from birth-control issues, such as a rising gender imbalance and the ageing population have led to the present population policy shift. [Reuters]
The proposed changes to the draft provisions on the population and family planning in Shanghai would allow for the first time a re-married couple to give birth to a child even though both wife and husband have already had one child during their previous marriages.
But both the mother and father themselves would have to be single children.
"The new version intends to fine-tune the policy," said Xia Xiurong, a member of the Standing Committee of the Shanghai People's Congress.
The move is prompted by the city's fast growing aging population in recent years. On the other hand, "the law aims at avoiding a massive baby boom in the city's foreseeable future, which would cause severe social problems particularly in employment and education," Xia told Shanghai Daily.
The committee will begin debating the new policy October 10. Shanghai's current family planning rules, which was first passed in March 1990, limits most couples to having one child.
Violators have to pay a so-called "social-fostering fee" based on their annual income.
In certain cases, such as when both a husband and wife come from a single-child family, or when a couple's first-born has a non-hereditary handicap, a married couple is entitled to have a second child without paying the fee.
But they must wait four years between births or face a fine - a rule the proposed changes would eliminate.
Legislators want to reduce some of the limits so that the city's population growth will be much healthier and more reasonable, Xia said.