Bush, in campaign mode, challenges critics on Iraq
( 2003-10-10 10:11) (Agencies)
President Bush, challenging critics of the Iraq war in face of growing doubts at home and mounting U.S. deaths in the country, said on Thursday he had acted to protect Americans from "madman" Saddam Hussein.
"Who could possibly think that the world would be better off with Saddam Hussein still in power?" Bush said during a campaign-flavored visit to New Hampshire -- site of the first major presidential primary election next year.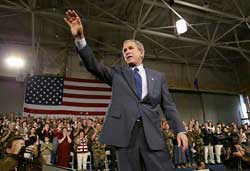 President George W. Bush waves to Air National Guardsmen, Army National Guard personnel and their families after remarks at Pease Air National Guard Base in Portsmouth, New Hampshire Oct. 9, 2003. [Reuters]

"I acted because I was not about to leave the security of the American people in the hands of a madman. I was not about to stand by and wait and trust in the sanity and restraint of Saddam Hussein," Bush said.

Bush has faced growing public suspicions that he exaggerated an Iraqi threat of unconventional weapons -- which have not been found -- to justify the war that ousted Saddam six months ago.

He is also being accused of mismanaging the Iraqi occupation as U.S. troops are dying almost daily in attacks. On Thursday, another U.S. soldier, a Spanish diplomat and at least 10 Iraqis died in a trio of attacks.

The problems have provoked rare public tensions within the administration over a reorganization of Iraqi reconstruction management that some saw as a dilution of Pentagon authority.

In speeches to a military audience in Portsmouth and the Manchester Chamber of Commerce, and later in Kentucky, Bush defended his record on Iraq and the U.S. economy, two major issues where potential Democratic challengers regard Bush as vulnerable.

"We're making great progress (in Iraq). I don't care what you read about," Bush said in Lexington, Kentucky, at an evening fundraiser for Republican U.S. Rep. Ernie Fletcher, who is running for governor in a November off-year election.

TURN THE TABLES

Bush had few new arguments on Iraq, but he and top aides will make their case repeatedly in coming days in a public relations push. A Bush aide said the president was trying to turn the tables on his critics. Vice President Dick Cheney was to extend the arguments on Friday in Washington in a speech that an aide described as "provocative."

Democrats accused Bush of substituting public relations for policy. "I don't think the American people want spin. I think they want results. The only way we're going to get results is to change the approach," Senate Democratic leader Tom Daschle told reporters.

Bush's Portsmouth audience was New Hampshire National Guard troops and reservists from units that have seen duty in Iraq. A heavy reliance on reserves in Iraq and elsewhere has sparked politically volatile discontent over their long deployments.

Bush also challenged his tax-cut critics, who say the country cannot afford them. "Some are saying now is the time to raise taxes ... But I strongly disagree," he said.

He said the economy was showing hopeful signs. On Thursday, the government reported jobless claims fell to their lowest level in eight months last week.

Bush, whose poll ratings have been hurt by concerns over Iraq and the U.S. economy, also engaged in some traditional New Hampshire election campaigning. He made an unannounced stop at a Manchester pizza parlor to shake hands, but aides said the trip was not officially a campaign visit.

However, the state kicks off the presidential primary season on Jan. 27, and the president lost it to Sen. John McCain in the 2000 Republican primary.

A University of New Hampshire poll released on Wednesday showed Bush's approval rating for handling of the economy dropped for the first time below 50 percent, to 46 percent. A 54 percent majority of residents approved of his handling of Iraq, and 56 percent approved of his overall job performance.