Turkish leader dismisses Iraqi objections
( 2003-10-10 10:03) (Agencies)
Prime Minister Recep Tayyip Erdogan brushed aside Iraqi objections against sending Turkish troops to Iraq, saying Thursday the soldiers would promote peace and that objections "would not be acceptable."
Members of Iraq's Governing Council spoke out against troops from its neighbor after Turkey's parliament voted Tuesday to give the government permission to send peacekeepers to help the U.S.-led coalition.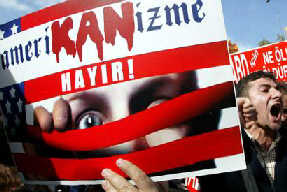 A Turkish demonstrator holds a banner that reads: ' No to Amerikanizm ! ' as others chant slogans during a protest in Istanbul, Turkey, Wednesday Oct. 8, 2003, a day after parliament debated the government's motion for dispatching Turkish soldiers to Iraq. [AP]

Turkish troops "are going (to Iraq) for the peace and happiness of the Iraqi people," the semiofficial Anatolia news agency quoted Erdogan as saying. "Negative approaches to an army that is there for peace and happiness would not be acceptable."

Turkish troops are not going to Iraq as a police force, Erdogan was quoted as saying. "We are going there to accelerate the peace process, ... democratization, and help Iraq ... integrate into the world."

The vote did not specify when troops would be dispatched, how many would be deployed, or when they would go. Those issues are expected to be the subject of U.S.-Turkish talks that could take months.

U.S. Ambassador Eric Edelman met with top Foreign Ministry officials Thursday to discuss a possible deployment, a Foreign Ministry official said, speaking on condition of anonymity.

The official said the meeting was a general exchange of ideas on peacekeeping and gave no further details.

On Wednesday, Iraq's Governing Council told the chief U.S. administrator in Iraq, L. Paul Bremer, that Iraqis oppose Turkish peacekeepers. Many Iraqis fear that peacekeepers from neighboring countries may not be neutral.

Iraqi Kurds are especially reluctant to accept Turkish peacekeepers. Turkey battled Turkish Kurdish rebels fighting for autonomy in southern Turkey, a 15-year conflict that left 37,000 people dead.

U.S. officials met Thursday with members of the council in Baghdad and Bremer said the meeting was "an important step to finding a solution satisfactory to both the United States and Iraq."

Also Thursday, five members of Congress arrived in Turkey. The delegation, headed by Rep. Jim Saxton, R-N.J., a member of the House Armed Services Committee, met with Deputy Premier Mehmet Ali Sahin and other officials.