Kobe Bryant arrives for day in court
( 2003-10-10 09:44) (Agencies)
Basketball star Kobe Bryant arrived at court on Thursday for a preliminary hearing into charges that he raped a 19-year-old woman amid speculation that he would skip the hearing and proceed to trial.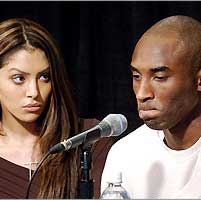 Bryant, dressed in a dark suit, walked into the courthouse in this small Colorado mountain town with his two attorneys, but did not speak to reporters. One bystander yelled "go Kobe!" The 25-year-old Los Angeles Laker left his team's training camp in Hawaii for the court date.
Bryant's defense team may exercise his right to waive the hearing to keep potentially damaging evidence from being aired in public. The defense was expected to make its final decision after a meeting in the judge's chambers.
CBS legal analyst Andrew Cohen said he would be surprised if the preliminary hearing took place "unless they wanted to show they were not afraid or they wanted to mellow out the shock value," he said.
Eagle County prosecutor Mark Hurlbert has said he plans to show photos of injuries Bryant's accuser said she sustained during a rape on June 30 and put on the stand a police detective who interviewed her.
Judge Frederick Gannett denied a request by the defense team of Hal Haddon and Pamela Mackey to question the young woman, a college student who worked as a concierge at the Colorado resort where Bryant was staying after knee surgery.
Bryant has denied he raped the woman and characterized the June 30 encounter as consensual sex. He is free on a $25,000 bond and required to make a bond appearance.
The basketball player also could decide to enter a plea on Thursday or at a later court date. Either way, the prosecution has to be ready to lay out in court why Bryant should stand trial.
In a preliminary hearing, a prosecutor has only to present enough evidence to show a probable cause that a defendant committed a crime, a much lower standard than for trials, in which a jury must be convinced of guilt beyond a reasonable doubt.
Television satellite dishes were set up and dozens of reporters have flocked to this town of 3,000, ready for what could be a short hearing.
Security was also tight and special passes were needed for the courtroom.