Floods force 20,000 to relocate
( 2003-10-10 01:53) (China Daily)
Some 20,000 villagers in Henan and Shandong provinces have been relocated to villages neighbouring their own as the local authorities and residents continued to fight flooding on the Yellow River.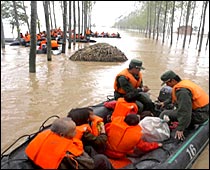 Chinese soldiers help evacuate local residents and their belongings. [newsphoto.com.cn]
Due to continuous rain since mid-August, the middle and lower reaches of China's second-largest river have witnessed alarming fluctuations in the water level.
The level fell slightly yesterday in the lower reaches of the river but the rain has continued to fall in some locations upriver.
In Dongming County in East China's Shandong Province, about 98,000 villagers were threatened by the flooding, more than 7,000 homes have been seriously damaged, and some 900 houses have collapsed into the water.
Many bridges and roads have been inundated, and about 13,300 hectares of crops will not yield a single grain, according to officials in the city of Heze, whose administration covers Dongming.
The provincial government leaders and local authorities have established a flood command office to oversee the relief work.
Several parts of the river bank in Henan Province's Lankao County have been in danger of collapse in the past few days. On Wednesday and Thursday, the authorities in nearby Dongming took the precaution of moving three whole villages -- a total of more than 5,000 people.
These villagers, together with another 5,000 people displaced previously, have been housed in tents and homes in unaffected neighbouring villages.
As the temperature is getting lower, more people will get indoor accommodation, said Cheng Honglei, an official with the flood office.
The villagers were not reluctant to move because a dozen or so young men were left behind in each village to look after the livestock, said Cheng.
No deaths or injuries have been reported in Heze in the past three weeks, and seven babies have been born safely in the past few days, according to a local report.
The upriver county of Lankao is mobilizing soldiers, boats and vehicles to reinforce the banks under threat.
More than 9,000 villagers -- mostly women, the elderly and children -- have been moved out of the flood-affected areas.
The government distributed instant noodles, flour, salt, quilts, sheets, tents and dishes to those displaced.
The ministries of finance and civil affairs allocated 10 million yuan (US$1.2 million) last week to fund flood relief work in Lankao and Dongming, the two hardest-hit counties.