'China explores space for peaceful purposes'
( 2003-10-10 01:53) (China Daily)
China has been developing space technology purely for peaceful purposes and will never participate in any arms race in outer space, Chinese Foreign Ministry spokeswoman Zhang Qiyue said in Beijing Thursday.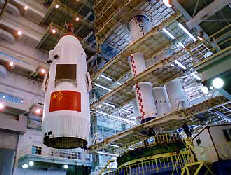 Preparation is under way for the launching of the country's first manned spacecraft, the Shenzhou V. [newsphoto.com.cn]

In response to a question on whether China would use its space technology for military purposes, Zhang said, "I can tell you clearly that China, like many other countries, explores and develops space technology only for the peaceful utilization of outer space."

China has always advocated a weapons-free outer space and holds that preventing an armament race in space is in the interests of all countries in the world, she said, adding that China is willing to carry out effective cooperation with other countries in the peaceful utilization of outer space.

"China has never and will never participate in an arms race of any form in outer space," Zhang said.

The spokeswoman said China's tremendous efforts to explore, develop and peacefully utilize outer space was not in contradiction with her status as a developing country.

All developing countries need to develop their level of science and technology, Zhang said, adding that China's endeavor to improve its space technology not only benefits the country alone but is also important to the cause of peaceful utilization of outer space by mankind.

Countdown soon for manned space launch

In another development, a Shanghai-based newspaper reported Thursday that China's first manned spacecraft Shenzhou V (Divine Vessel V) is expected to be launched later this month and will orbit the Earth 14 times before returning.

The Jiefang Daily report said that the spacecraft is likely to be launched during the daytime and to be carried by a Long March-II F rocket. The site of the launch has not been officially announced.

At present, three would-be astronauts have been chosen out of 14 candidates to pilot the mission, and one pilot will be chosen from the final three to man the craft, the report said.

Made up of two coaches and 12 trainees, the 14 candidates are all experienced fighter plane pilots, 1.70 metres tall and weighing 65 kilograms, and have received six years of special training.

In addition, the order among the three would-be astronauts, or who will fill whose vacancies, has also been set, the report said.

But experts added that performances by these would-be astronauts at critical moments would also count in deciding who will go to space.

Before the formal launch of Shenzhou V, China has launched four unmanned spacecraft missions from the end of 1999 to early this year.

Qi Faren, chief designer of Shenzhou V and academician of the Chinese Academy of Sciences, was quoted in the report as saying that the "Shenzhou III" and "Shenzhou IV," which were launched earlier, were designed identical to the manned spacecraft model in terms of technology.

That is, it can meet the demands of astronauts if they are on board.

Though China could only conduct four manned flight tests because of limited funds, Qi said he and his colleagues were confident about the imminent manned flight.

If the Shenzhou V mission is successful, there would be more plans after that to improve the manned flight project, he said.

In this context, the Shenzhou V mission is going to be a substantial beginning with huge symbolic significance, he added.

Qi also revealed that the back cabin of the Shenzhou V has a diameter of 2.5 metres.