Report: Manned space mission to orbit earth 14 times
( 2003-10-09 16:02) (chinadaily.com.cn and Agencies)
Chinese astronauts are in the final stages of preparing for a manned space mission that will orbit the globe 14 times before returning to Earth, a newspaper reported Thursday.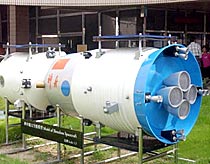 Shenzhou V has entered a stage of general assembling and testing, with most scientific equipment to be on board having been checked and accepted. [Xinhua]


The launch, expected sometime this month, will initially send a manned craft, the Shenzhou V, into an oval orbit that at its closest will be 200 kilometers (125 miles) from Earth, the Liberation Daily reported, citing ``relevant channels.''

After circling the earth several times, Shenzhou V, which means "Divine Vessel" in Chinese, will enter an orbit at about 350 kilometers (220 miles) from earth, the report said.

On Wednesday, other media, citing senior officials in China's space program, reported that China would send its first person into space on Oct. 15 for a single-orbit, 90-minute flight.

The Liberation Daily report said the launch will take place in the daytime. It did not say how long the mission would last, but gave some details on the candidates for the single-person mission.

The astronauts, all highly experienced fighter pilots, have been training for six years. They are about 170 centimeters (5 feet, 8 inches) tall and weigh about 65 kilograms (140 pounds).

The launch of the 8-ton craft will be televised nationally on China Central Television Channel 4 and 9, the report said. If the launch is completed successfully, China would join the United States and the former Soviet Union, to be the only countries that have sent manned craft into space.

China began considering a manned launch as early as the 1960s, but due to a lack of technology and resources, instead focused on perfecting satellite launching capabilities, the Liberation Daily quoted Qi Farun, chief designer of Shenzhou V, as saying.

Planning for a manned space mission began 11 years ago.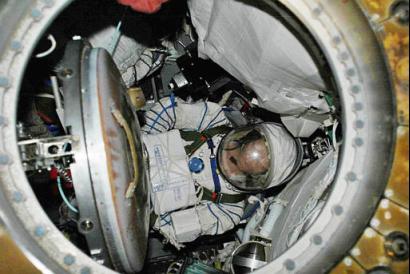 A simulated astronaut is shown inside the landing capsule of the 'Shenzhou IV' spacecraft after it landed in Inner Mongolia, in north China, in this Jan. 5, 2003 photo. After 11 years of planning, China is on the brink of joining the elite of spacefaring nations.[AP]
In an interview conducted at the launch base near the Gobi Desert town of Jiuquan, 1,440 kilometers (900 miles) west of Beijing, Qi described improvements to the Shenzhou space craft made as a result of four earlier unmanned space missions.
According to Qi, once the astronaut returns to earth, Shenzhou V's orbit capsule will not be left as ``trash,'' but will have power and control systems allowing it to be used for research for up to six months after the mission ends.
Qi also acknowledged some opposition to the project.
``Even among us, there were some who believed spacecraft are too complicated, and require too large an investment, for no obvious return,'' the Liberation Daily quoted him as saying.
``Complicated things can be unsafe,'' he said.
Qi said the Shenzhou V mission was of great symbolic importance and was an important step in future missions.
``Earth's resources are limited and are being depleted. Our own coal and natural gas resources are finite, but outer space holds abundant resources and treasures,'' he said.