NATO to quiz Russia on attitude to former foe
( 2003-10-09 14:55) (Agencies)
NATO defense ministers were set to quiz Russia on Thursday over an official report that characterized the U.S.-dominated alliance's military doctrine as "offensive."
NATO Secretary General Lord Robertson speaks during a media conference at the Broadmoor Hotel in Colorado Springs, Colorado, Wednesday Oct. 8, 2003. [AP]

NATO Secretary-General George Robertson sought before the meeting with Russian Defense Minister Sergei Ivanov in Colorado Springs to underline the "remarkable level of trust" between the former Cold War foes.

Improving relations with Moscow is a key element of NATO's drive to reinvent itself to tackle terrorism and the spread of weapons of mass destruction, threats highlighted on Tuesday by an unprecedented war-gaming exercise for the alliance ministers.

Diplomats said NATO would nevertheless seek details of a meeting Russian President Vladimir Putin had with his top military brass last week.

A Russian Defense Ministry report on tasks facing the armed forces, published at the time, twinned a reference to the value of military cooperation with the United States with unusually sharp comments about NATO.

The report said that if NATO remained a "military alliance with its existing offensive military doctrine," Russia would have to overhaul its military posture and nuclear strategy.

Commentators said the contradictory message reflected competing views inside Russia's defense establishment, where many remain suspicious of NATO.

MIXED SIGNALS FROM MOSCOW

"I have no doubt that when Minister Sergei Ivanov comes tomorrow he will want to expand on the fairly sketchy details which came out of the meeting that the president had with his commanders last week," Robertson told a news conference.

"I spoke to Minister Sergei Ivanov at the end of last week ... and he was at pains to tell me that he thought some of the reports bore no relation to what the reality was."

Putin has softened Moscow's criticism of NATO's decision to expand its borders behind the old Iron Curtain as part of his broad pro-Western policy. He agreed last year to set up a new NATO-Russia Council for closer cooperation on security issues.

There are still misgivings in Moscow about NATO's embrace of Estonia, Latvia and Lithuania, which broke free from the Soviet Union in 1991 after a 50-year occupation. The Baltic states are among seven Eastern European countries due to join the 19-nation alliance next year.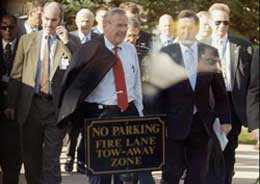 Seen through the reflection of a shuttle bus window, U.S. Secretary of Defense Donald Rumsfeld, front left, talks with NATO Secretary General Lord Robertson as they leave a news conference and head to the round table meeting of NATO ministers in Colorado Springs, Colo., Oct. 8, 2003. [AP]

Defense Secretary Donald Rumsfeld was due to meet Ivanov separately at Colorado Springs for talks that officials said would focus on NATO's assistance with Russian military reform.

On the first day of their meeting on the edge of the Rocky Mountains, the alliance defense ministers and their counterparts from the seven future members watched a fictitious rescue operation escalate into a weapons of mass destruction crisis.

The "study seminar" was designed to focus minds on NATO's new global security role and challenge decision-making procedures that hobble its capacity to act at a moment's notice.

Before meeting Ivanov, the ministers were to discuss plans to expand NATO's Afghan peacekeeping operation and the European Union's offer to take over its Bosnia stabilization mission.

The 15-nation EU, which includes 11 members of NATO, agreed informally last weekend to aim for a takeover of the Bosnia mission by mid-2004, a timetable the United States had criticized as too hasty.