Austrians cheer native son Arnie, papers puzzled
( 2003-10-09 09:17) (Agencies)
Austrians cheered native son Arnold Schwarzenegger Wednesday while some European newspapers scratched their heads over the swift ascent of a political newcomer to the California governor's office.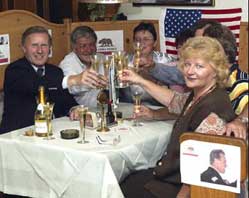 Former schoolmates of Arnold Schwarzenegger, Peter Urdl, mayor of Thal, and Franz Hoermann, from left, touch glasses with Anna Hoermann, third from left, Elfi Kling, right, and other friends on Oct. 8, 2003 while toasting the outcome of the election for Governor of California over champagne. [AP]

"I was moved to tears," said Elfi Kling, who runs a restaurant in Schwarzenegger's hometown of Thal.

Josef Heinzl, a school friend of Schwarzenegger, brushed off allegations the actor had groped women on film sets.

"I have no doubt that he'll be one of the best governors California has ever had. He's a good man, a family man, and he stands for the people, not just for business alone," he said.

Even Joerg Haider, the anti-immigration populist who sparked international protests by praising Nazi policies, had kind words for the Austrian-U.S. citizen who criticized Haider's politics.

"This is not just a great personal honor for Schwarzenegger but also an honor and a boost for Austria in America," Haider said in a statement.

Some European media questioned a political system that catapulted a film star with more money than political experience into the top office of the richest U.S. state, with an economy larger than France's.

The influential left-leaning Paris daily Le Monde described Schwarzenegger in an editorial as "a film actor with no experience of politics whatsoever, whose concerns up until now were closer to bodybuilding than to nation-building."

"UNCHARTERED POLITICAL TERRITORY"

London's Evening Standard newspaper said Schwarzenegger's election "takes the state and perhaps even the United States into uncharted political territory."

"California has elected a right-wing movie actor as its governor before -- Ronald Reagan -- but never one so completely inexperienced in the world of politics and government," the Evening Standard wrote.

But some expressed admiration for an American rags-to-riches story.

French Interior Minister Nicolas Sarkozy broke with the generally condescending tone in the French media to say most French would look down on any politician who had not gone to an elite school.

"Someone who was a foreigner in the country with an unpronounceable name came become governor of the largest state in the United States -- that's not nothing!"

In Austria, people on the street said Schwarzenegger's victory would shine a positive light on the country, whose image has been marred by two rounds of international protests in the past 20 years linked to the country's Nazi past.

"If he continues to make clear his origins and reminds people that he is Austrian, it will certainly improve our image, at least in America," said Arno Castellani, a teacher.

Austria was slapped with brief diplomatic sanctions in 2000 after Haider's far-right party entered government. He later retracted his comments supporting Nazi policies.

In 1986, the United States led protests against the election of Kurt Waldheim as Austrian president after he was found to have covered up his past service with the German army in its brutal Balkans campaign in World War II.