Iraq Council seeks compromise with US
( 2003-10-09 09:06) (Agencies)
Iraq's Governing Council said on Wednesday it was seeking a compromise to end a dispute with the U.S.-led administration over the deployment of Turkish troops to help occupying forces stabilize the country.
The dispute over Turkish troops coincided with signs that Washington may abandon efforts to secure a new United Nations resolution meant to secure more international help to bring order in Iraq seven months after the U.S.-led invasion.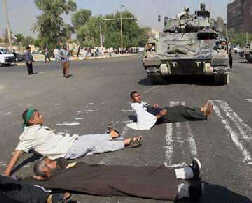 Shi'ite Muslim protesters lie down in front of a U.S. Army Bradley vehicle October 8, 2003 after hundreds marched to the Baghdad headquarters of the U.S.-led administration in Iraq. [Reuters]

In Washington the Bush administration was forced to paper over apparent differences between Defense Secretary Donald Rumsfeld, a main architect of the war, and the White House over a reorganization of its efforts to rebuild the country.

The dispute over whether Turkish troops will be able to join the U.S.-led occupation force erupted as American soldiers faced continuing deadly attacks by guerrillas that hinder initiatives to rebuild Iraq's civilian administration.

Turkey's parliament voted on Tuesday to send troops to join the U.S.-led force and Turkish officials said talks with the United States on deploying them would begin on Thursday.

But members of the Iraqi Governing Council, handpicked by Washington as the first step on the road to self-rule, said the body had unanimously agreed to reject the presence of soldiers from any neighboring country, including Turkey.

A statement from the Council's president, Iyad Allawi, acknowledged members were worried about Turkish troops on Iraqi soil but said no final decision had been made.

Governing Council member Mowaffaq al-Rubaie told Reuters on Wednesday it had to be accepted final say on policy rests with U.S. governor Paul Bremer.

FOREIGN TROOPS

"The Governing Council views the presence of foreign troops in Iraq, especially those from neighboring countries, with anxiety and caution as those countries have interests that contradict the interests of the Iraqi people," he said.

Rubaie acknowledged there was little the Council could do to stop the U.S.-led administration bringing in Turkish troops. "We cannot deceive ourselves. We know very well that Iraq is occupied and the Coalition Provisional Authority is our partner, and we do not want to enter a confrontation.

"So we will definitely reach a compromise that will protect our interests and the interests of our partner," he said.

The Turkish troops issue is a thorny one largely because of the hostility of Iraq's Kurds toward Ankara. Rubaie said the Governing Council's objection to troops from neighboring countries was based on fears they could stir up strife among Iraq's different ethnic and religious groups.

The dispute coincided with a major reorganization of American efforts to bring control to Iraq, whose reconstruction has until now been under control of Rumsfeld and the Pentagon.

President Bush has named his national security adviser Condoleezza Rice as head of an "Iraq Stabilization Group," giving the White House more control and other agencies, like the State Department, more influence.

The Financial Times on Wednesday quoted Rumsfeld as saying in an interview he had been left in the dark about the shake-up. He also called for the publication of a confidential memorandum about the reorganization.

PAPERING THE CRACKS

The White House tried to play down any differences, with officials insisting Rumsfeld's authority had not been diminished and the Pentagon remained the lead agency in Iraq.

In the latest sign of unrest in Iraq, 6,000 Shi'ite Muslims marched to the headquarters of the U.S.-led administration in Baghdad on Wednesday in a second day of protests demanding release of a cleric arrested by U.S. troops.

At the United Nations, diplomats said on Wednesday the United States and Britain were making a last-ditch effort to overcome opposition to a new U.S. resolution before possibly dropping the measure entirely.

"The resolution looks pretty much dead," said a State Department official, who spoke on condition of anonymity.

Washington for months scorned any U.N. role after failing to get Security Council backing for the invasion.

Now, with costs mounting and attacks continuing on its forces, Washington wants the resolution which would give the United Nations a broader mandate in Iraq as part of efforts to get more countries to send troops and money.

U.N. Secretary General Kofi Annan said last week the United Nations could not play a political role in Iraq under the terms Washington wants. France and Russia, who want a faster handover of power to Iraqis, have criticized the draft.

At a Security Council session on Monday, most members wanted the resolution to deal with Annan's suggestions. But John Negroponte, U.S. ambassador to the United Nations, said there would be no substantial changes to the U.S. resolution.