China, Southeast Asia conclude strategic partnership pact
( 2003-10-08 16:04) (Xinhua)
China and its Southeast Asian summit partners agreed Wednesday to speed up their efforts to unify their huge trade markets, and pledged to resolve any future conflicts through dialogue.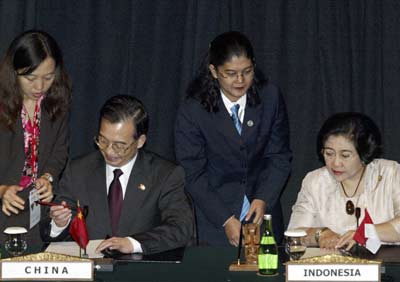 Chinese Premier Wen Jiabao (2nd L) and Indonesian President Megawati Sukarnoputri (R) sign an agreement in Nusa Dua, Bali October 8, 2003. Chinese Premier Wen Jiabao and ASEAN leaders signed agreements to foster trust. [Reuters]
The Treaty of Amity and Cooperation, signed Wednesday by China at the Association of Southeast Asian Nations summit on the Indonesian island of Bali, renounces the use of force and calls for greater economic and political cooperation.
The two sides signed an additional partnership accord calling for speeded-up talks on a free-trade area, which China and ASEAN already are committed to by 2010.
Such an agreement would make the region the world's most populous market, with 1.7 billion consumers.
``It's good for the region. It's good for the rest of the world,'' Chinese Foreign Minister Li Zhaoxing said Wednesday.
The regional summit also was attended by leaders of India, Japan and South Korea.
ASEAN comprises Brunei, Cambodia, Indonesia, Laos, Malaysia, Myanmar, the Philippines, Singapore, Thailand and Vietnam.
ASEAN's 1976 Treaty of Amity and Cooperation is the grouping's founding nonaggression pact aimed at promoting regional stability.
India also was scheduled to sign the same treaty on Wednesday, and ASEAN leaders want South Korea and Japan to accede to it soon.
The additional ASEAN-China accord emphasizes the principle of nonaggression. It does not bar signatories from forging separate treaties with other countries.
``We highlight the strategic importance of ASEAN-China relations to peace, development and cooperation in our region,'' the document said, adding that it ``demonstrated that political trust between the two sides has been notably enhanced.''
Chinese Premier Wen Jiabao has enthusiastically promoted closer ties during his visit to Bali, saying China should be seen as an opportunity rather than an economic threat.
ASEAN-China trade amounted to US$55.4 billion in 2001, with trade growing by an average of 25.7 percent annually between 1993 and 2001, according to the latest ASEAN statistics.