Angry Californians dump Davis, elect Schwarzenegger
( 2003-10-08 12:02) (Agencies)
Californians rose up in political revolution on Tuesday, storming the polls in record numbers to throw their governor out of office and elect in his place Arnold Schwarzenegger -- an Austrian-born film star who tapped into a deep vein of voter anger.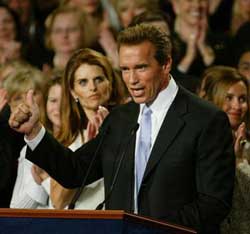 California governor elect Arnold Schwarzenegger makes a point as he stands with his wife Maria Shriver at his victory celebration at the Century Plaza Hotel in Los Angeles, October 7, 2003. [AP]

Network exit poll projections showed that when all votes are counted, Gov. Gray Davis would be swept out of office in stunning defeat as Californians vented their unhappiness with the career politician.

It was an unexpected end for the man once mentioned as a possible presidential candidate. He had called the recall a "right-wing power grab" and boasted that he would survive, but the political veteran with 30 years of climbing the statehouse ladder was beaten by a man who never spent a day in government.

The historic recall election that only months ago was written off as a circus with 135 candidates -- including a porn star, smut peddler, sumo wrestler and a muscleman with the foreign accent -- has become a watershed political moment.

Davis -- reelected only in November -- became the first governor of California ever essentially fired by the people who put him in office and Republicans gained a critical bully pulpit in a heavily Democratic state with the 2004 presidential election looming.

Schwarzenegger also appeared headed for a commanding victory from voters, who embraced his lack of political experience and outsider status and shrugged off a blizzard of last-minute sexual harassment allegations by 15 women.
California Governor Gray Davis hugs his wife Sharon as he delivers his concession speech at his campaign headquarters in downtown Los Angeles October 7, 2003. Californians voted to recall their governor and replace him with actor turned politician Arnold Schwarzenegger. [Reuters]

An estimated 10 million California voters cast ballots in the special election, 30 percent more than voted in the governor's race that reelected Davis last year and the biggest turnout for any nonpresidential contest in state history, according to the Field Research Corp.

RECALL THEM ALL?

Political analysts said the lion's share of the higher turnout was coming from disaffected voters galvanized by Schwarzenegger.

Experts said the "Terminator" star took advantage of the political landscape in California, where voters felt ignored by their leaders in Sacramento and cut off from their government amid a worsening state economy that politicians failed to fix because of fierce partisan squabbling.

"If Californians had the constitutional right to recall all 120 members of the state legislature they probably would have done that too," Allan Hoffenblum, a Republican political consultant, said.

Analysts said that despite the news media's fixation on Schwarzenegger, the key to the election was not so much the action film star as it was Davis -- a profoundly uncharismatic man who seemed passionate only about raising campaign funds and was estranged from many state leaders.

"He was all but marginalized and ineffectual and the voters knew it and they were fed up with it," Hoffenblum said.

While some pundits ascribed Schwarzenegger's success on the replacement ballot to his movie star status and Populist rhetoric, analysts said much of the actor's strength came from his centrist message. The Republican staked out socially liberal and fiscally conservative positions that appealed to most Californians.

"You had Cruz Bustamante on the left talking about $8 billion in new taxes and more rights for illegal immigrants and Tom McClintock on the right and they gave the entire middle to Arnold Schwarzenegger," Hoffenblum said.

Schwarzenegger's ascendance was seen as a victory for Republicans -- who hold few statewide offices and saw the state vote for Democrat Al Gore in the last presidential election -- and devastating to Democrats who control both houses of the legislature but now must work with the new governor to solve the state's problems or face voter rage themselves.

Although results seemed clear Tuesday night after polls closed it could be weeks until the state certifies the official result and some observers held out the prospect of a recount or court challenge.