First British trial of tobacco firm opens
( 2003-10-08 10:39) (Agencies)
Britain's first trial of a tobacco company blamed for a smoker's death opened Tuesday with a written statement by the deceased shortly before lung cancer took his life.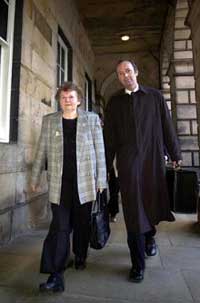 Margaret McTear arrives at the at the Court of Session in Edinburgh, Scotland, with her lawyer Cameron Fyfe, Tuesday Oct. 7, 2003, where she is taking legal action against a tobacco firm after her husband died from lung cancer. [AP]

The case could pave the way for other suits against tobacco companies in Europe, lawyers said.

In Edinburgh's Court of Session, lawyers for Alf McTear read a statement he gave weeks before his death in 1993 at age 48, not long after initiating a civil suit.

"God forgive me but I enjoyed it. I still want to smoke even though I've got all this happening to me," the statement said.

McTear's wife, Margaret, is now suing Imperial Tobacco for $800,000, saying it failed to warn her husband about the dangers of smoking cigarettes.

"This is the first such case in Europe to go to a final hearing," said Cameron Fife, Margaret McTear's lawyer. "If we succeed, I'm quite sure it would open up the floodgates in the U.K., and probably throughout Western Europe."

But even if she wins, Fyfe said Margaret McTear would probably not receive more than $250,000 since Scottish law makes no provision for punitive damages.

That's "paltry compared to what is happening in the (United) States," Fyfe said in an interview with British Broadcasting Corp. radio. "But there are so many potential cases throughout Europe that in total it could be a huge sum."

An earlier effort to bring a group action on behalf of lung cancer patients against Imperial collapsed in 1999 when a court ruled that many of the plaintiffs had filed their claims too late.

When McTear was diagnosed with cancer, he was smoking 60 cigarettes a day.

In his statement, Alf McTear said there were no warnings on cigarette packages when he began smoking in the 1960s.

Manufacturers agreed in 1971 to put this warning on packages: "Smoking can damage your health." Warnings have since become more explicit, saying such things as "Smoking Kills" and "Smoking clogs arteries and causes heart attacks and strokes."

Alf McTear gave his statement at home, which was made a temporary court room, and the hearing was interrupted several times because he was so weak.

Following his death, Margaret McTear decided to continue with the action.

In April 1996, a judge cleared the way for Margaret McTear to continue her case after rejecting Imperial Tobacco's demand that she pay $3.3 million in legal fees before suing them.

The case is expected to last up to five months.