Southeast Asia looks ahead to free trade
( 2003-10-08 08:59) (China Daily)
Southeast Asian leaders Tuesday signed a plan to transform the region into a giant free-trade zone by 2020.
But they are working too for the creation of a free-trade zone with China in 2010.
"The China-ASEAN Free Trade Area is a win-win arrangement," Chinese Premier Wen Jiabao told a meeting attended by business groups.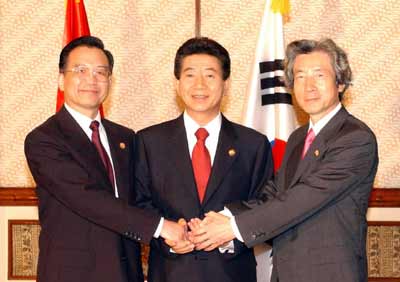 Premier Wen Jiabao (left), Republic of Korea (ROK) President Roh Moo-hyun (centre) and Japanese Prime Minister Junichiro Koizumi meet prior to their trilateral conference in Bali, Indonesia October 7,2003. The three leaders met on the sidelines of the ASEAN Summit. [newsphoto.com.cn]
Security was tight for the annual summit on Indonesia's bomb-scarred tropical island of Bali, where leaders of the Association of South East Asian Nations (ASEAN), to be joined by China, Japan, South Korea and India, met for two days to endorse plans to create a single market.
The urgency for the trading bloc has been highlighted by the failure of world trade talks in Cancun.
While ASEAN's relatively small economies want more influence to compete with China, Wen tackled those worries head-on. "My answer is that a more developed and stronger China will bring about development opportunities and tangible benefits to other Asian countries," he told business leaders.
"China's development will bring tremendous immediate and long-term benefits to Asian countries. It provides a huge market for Asian countries," he said yesterday, adding that China would encourage its companies to invest in other Asian countries.
The group of South East Asian nations is considering advancing the 2020 deadline as it works on free-trade agreements to be completed with China in 2010, India in 2011 and Japan in 2012, ASEAN Secretary-General Ong Keng Yong said at the weekend.
By 2010 the world could see a free trade area with nearly two billion people and total gross domestic product of almost US$3.0 trillion taking shape in Asia, Wen said.
He put forward a four-point proposal to improve and substantiate partnerships between the ASEAN and China, Japan and the Republic of Korea (ROK), also known as the 10+3 group. ASEAN, China, Japan and ROK are important trading partners for one another, while the latter three either have already established or intend to set up a free-trade area with ASEAN, said Wen.
"All this will pave the way for the ultimate formulation of an East Asian Free Trade Area," he said. To promote East Asian fiscal and financial teamwork, Wen suggested phasing in multi-lateral currency swap arrangements on the basis of the existing bilateral ones, to gradually implement the preliminary 10+3 consensus on setting up an Asian bond market. He also proposed enhancing the capabilities of East Asian countries in making mutual investment.
Turning to political and security dialogue, Wen said that security issues remain prominent in the region, and that terrorism and other trans-national problems are increasingly becoming real challenges to all countries.
Several leaders urged an earlier deadline for creating the ASEAN Economic Community endorsed as part of the Bali Concord II, warning ASEAN's economies that they risked being left behind.
Leaders discussed bringing forward the date and left open the possibility, according to a final statement by the chair.
"Seventeen years from now might be too late," Thai Prime Minister Thaksin Shinawatra said on Monday of the goal to cut tariff and non-tariff barriers to trade in the region.
ASEAN comprises Brunei, Cambodia, Laos, Viet Nam, Indonesia, the Philippines, Singapore, Myanmar, Malaysia and Thailand.
Japan told: Sort out issue of weapons
During his separate meeting with Japanese Prime Minister Junichiro Koizumi in Bali Tuesday, Premier Wen Jiabao urged the Japanese Government to deal "appropriately" with the issue of chemical weapons left by the Japanese army at the end of their invasion of China
Both Wen and Koizumi are in the Indonesian resort of Bali to attend a meeting involving their two countries, ROK and the 10 members of the ASEAN.
Wen emphasized that the key issue for the smooth development of Sino-Japanese relations is to understand and deal with history correctly.
According to an investigation carried out by Chinese researchers, invading Japanese forces left about 2 million chemical bombs and 100 tons of poison in China.
In the latest case, abandoned chemical weapons killed one person and made 42 others ill in August in the city of Qiqihar in Northeast China's Heilongjiang Province.
Koizumi said the Japanese Government will adopt "sincere attitudes" and deal appropriately with the issue of the abandoned chemical weapons, according to the Chinese Foreign Ministry spokeswoman.
Sino-Japanese bilateral relations have been consolidated and further developed this year as the two sides have hosted a series of activities to commemorate the 25th anniversary of their Treaty of Peace and Friendship, said Koizumi.
He added that Japan will continue to develop friendly and co-operative relations with China in all fields.
Yesterday, Wen also held separate meetings with ROK President Roh Moo-hyun, Philippine President Gloria Macapagal Arroyo, Malaysian Prime Minister Mahathir Mohamad and Thai Prime Minister Thaksin Shinawatra.
During his talk with Roh, Wen said that patience, wisdom and time are all needed to resolve the nuclear issue on the Korean Peninsula.
Wen emphasized a peaceful solution through negotiations is the only correct choice and this can never change, according to a Chinese Foreign Ministry spokeswoman.
Wen said it is not long since Beijing and Seoul announced the establishment of a comprehensive co-operative partnership between them.
This is of great significance for strengthening bilateral friendly co-operation, the Chinese premier said.
Roh said his government and people thank China for its positive contribution to seeking a peaceful solution to the nuclear issue facing the Korean Peninsula.