Speedy development, close cooperation urged
( 2003-10-07 14:12) (Xinhua)
Chinese Premier Wen Jiabao called countries to use a favorable environment to speed up their own development and step up regional cooperation.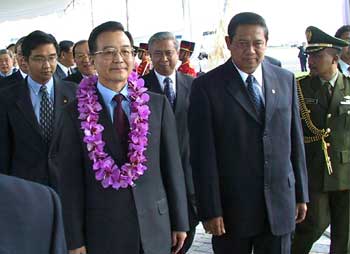 Premier Wen Jiabao (L) is welcomed by Indonesian officials in Nusa Dua, on the Indonesian resort island of Bali on Monday, Oct 6, 2003. Wen was there to attend a regional summit with ASEAN countries. [newsphoto.com.cn]

While addressing the first ASEAN Business and Investment Summit on Tuesday, the Chinese leader stressed "development is the enduring pursuit of mankind. It is the only way leading to Asia's rejuvenation. Under the present world circumstances, Asia is faced with both rare opportunities and serious challenges in its development."

However, Wen Jiabao said, there are an increasing number of factors affecting peace and development, which include the rising threat of terrorism, the new manifestations of power politics, the uneven development among countries and the widening gap between the North and the South.

"It remains a long and uphill journey to maintain world peace and promote common development," Wen underlined.

As a rapidly rising continent, the Chinese premier said, Asia is attracting more and more attention worldwide. Asia's share in the world economy has risen from 5 percent at the end of World War II to 23 percent today. Asia's economic achievements are attributable not only to the fact that Asian countries have seized the opportunities and boosted growth, but also to the burgeoning regional and sub-regional cooperation of all kinds.

In a bid to find a good mechanism for lasting development and common prosperity in Asia under the competition pressure created by the unfair and irrational international economic order, the Chinese leader called upon the Asian nations "to strengthen our solidarity and cooperation."

Turning to the current economic situation at home, Wen Jiabao noted, since the beginning of this year, "we have overcome the severe impact of the SARS epidemic and maintained fast and sound economic growth."

China's GDP has increased by 8.2 percent in the first half of this year. From January to August this year, its fixed asset investment grew by 32.4 percent, its total import and export volume reached 522.7 billion US dollars, representing a 36.3 percent increase, and 36.7 billion US dollars of foreign direct investment was utilized, marking an 18.4 percent growth over the same period of the previous year, he added.

Judging by the current trends, the Chinese premier said, "we are confident that this year's objective of achieving a 7 percent economic growth rate will be met."

According to Wen, by the year 2020, China's GDP, calculated on the current foreign exchange rate, will be over 4 trillion US dollars, which will enable China to reach the level of a moderately developed country by the middle of this century.

"A more developed and stronger China will bring about development opportunities and tangible benefits to other Asian countries, and will make even greater contribution to peace and development in Asia," Wen Jiabao asserted.

This is because firstly, he explained in his speech, it is a firm policy of China to vigorously promote Asia's development, rejuvenation, peace and stability.

Secondly, China's development will bring tremendous immediate and long-term benefits to Asian countries. And thirdly, China's growth adds to the peaceful forces and could contribute more to regional stability.

Wen Jiabao said that China and the Association of Southeast Asian Nations (ASEAN) officially launched the negotiation on establishing a China-ASEAN Free Trade Area in 2002, and positive headway has been made in the talks in the past year. He expressed his confidence that the Free Trade Area will be established according to schedule and in 2010, a Free Trade Area of nearly two billion people with a total GDP of almost 3 trillion US dollars will take shape in Asia.

"Pursuit of peace, cooperation and prosperity is the goal of China's Asia policy. There are broad prospects and great potential for economic and trade cooperation between China and ASEAN," Wen said.