U.S. says Israel must not feel constrained in defense
( 2003-10-07 11:25) (Agencies)
President Bush said Israel should not feel constrained in defending itself as tensions rose over the Jewish state's deepest air raid into Syria since the 1973 Middle East War.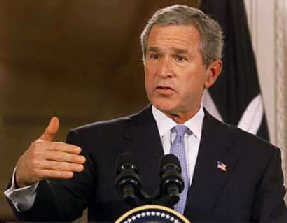 President Bush said Israel should not feel constrained in defending itself as tensions rose over the Jewish state's deepest air raid into Syria since the 1973 Middle East War. [Reuters]

Bush backed Israel's right to self-defense after Sunday's air raid on an alleged training camp for Palestinian militants, following a Palestinian suicide bombing that killed 19 people in Israel on Saturday.

But tensions continued to rise throughout Monday. The Israeli army said one of its soldiers had been shot dead at Israel's border with Lebanon, and military sources blamed his death on Hizbollah guerrillas backed by Iran and Syria.

"The shooting is an attack which is another dimension in the terror policy dictated and supported by the government of Lebanon and fully backed by Syria," the army said.

Major General Benny Gantz, commander of Israel's northern corps, said: "We are speaking of very dangerous moves by Syria, Iran and Lebanon, and if these three states are not careful, the situation is likely to deteriorate."

Hizbollah denied its forces had been involved in any shooting. An official from the United Nations peacekeeping force in Lebanon said one of its water trucks was hit by three bullets fired from inside Israel during the incident.

Early on Tuesday, a missile landed on a house in a south Lebanon town, killing a boy and wounding his brother. One security source told Reuters in Beirut the origin of the missile was unclear. Other security sources said the missile was probably fired at Israel from inside Lebanon but fell short.

Bush said he had told Israeli Prime Minister Ariel Sharon by telephone on Sunday that Israel should not feel constrained in defending itself.

"However, I said that it's very important that any action Israel take(s) should avoid escalation and creating higher tensions," Bush said in Washington.

White House spokesman Scott McClellan said the United States had urged Israel and Syria to avoid "actions that heighten tensions or that could lead to hostilities."

ISRAEL MULLS ARAFAT'S FUTURE

Political analysts doubt three years of Israeli-Palestinian conflict will trigger violence across the Middle East, but Israel now faces heightened tensions with Syria and Lebanon.

Damascus has asked the U.N. Security Council to condemn the Israeli raid and urged Washington not to block its resolution.

Syria called an emergency Security Council meeting on Sunday, but the United States, which has a veto on the council, said it would not support a resolution that condemned the Israeli raid but made no mention of the suicide attack.

U.N. Security Council diplomats said on Monday that a draft resolution drawn up by Syria condemning the air raid would have to be rewritten for more balance to win the nine votes needed for council adoption.

After brief closed-door talks, the council set no date for further action on the text, which would express "grave concern" over rising Middle East tension and condemn the Israeli raid as a violation of international law and the U.N. charter.

A senior Sharon adviser said Saturday's suicide attack meant Israel was likely to act faster on a decision it took in principle last month to remove Palestinian President Yasser Arafat from power.

"How he will be removed and when will be decided according to the circumstances," Raanan Gissin told Reuters, reiterating that Arafat's days were numbered.

The Palestinians are obliged to rein in the militants under a stalled U.S.-backed peace "road map," but Prime Minister Ahmed Qurie ruled out a crackdown for fear of starting a civil war.

"There won't be a civil war, (I will do it) through dialogue," he said on Monday.

State Department spokesman Richard Boucher said Qurie would be judged by his actions, not by his words.

"We will see how this government evolves. We'll see what kind of commitments and statements they make. We'll see what kind of action they take," Boucher said.