Visits to Macao, HK popular during holiday
( 2003-10-07 09:41) (China Daily)
China's facilitated individual travel policy on Macao- and Hong Kong-bound travels has gained widespread support from the public.
According to a recent survey conducted by the Beijing-based Horizon Research Group Inc, at least half of the population surveyed in Guangzhou, capital of South China's Guangdong Province, said the policy, which allows self-guided tours in the two regions, has brought convenience to planning holidays in those areas.
Another 37.5 per cent of the surveyed believed the policy was "very good''.
In the past, mainland residents could only travel in the two regions by joining a tourist group.
But this July, the country's public security department adjusted the old rule and began a trial run of the new regulations first in some cities in Guangdong such as Dongguan, Foshan, Zhongshan and Jiangmen. Then residents of Guangzhou, Shenzhen, Zhuhai and Huizhou in Guangdong started enjoying the new rules as of August 20, while Beijing and Shanghai residents began to benefit from the policy on September 1.
According to the new policy, people are required to provide only residential cards and identification cards when applying for the passes to Hong Kong and Macao.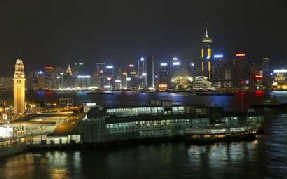 An evening view of Hong Kong's Victoria Harbor October 5, 2003. [Reuters]

The process is much simpler than before, when people were demanded to submit all materials that can prove the purposes of their trips.

The survey covered 250 people between the ages of 18 and 60 in Guangzhou's five districts, 25.9 per cent of whom planned to go out travelling during this National Day holiday.

Among those who intend to travel overseas, 80 per cent chose Hong Kong and Macao as destinations.

The survey also found that nearly 60 per cent of these travellers to Hong Kong and Macao will go by themselves, instead of joining tour groups.

The survey reported that the new policy has also changed the role of tourist services, who are turning to becoming agents booking air tickets and hotel rooms for these tourists.

In another development, the Macao Tourist Office foresaw an influx of some 120,000 tourists from the mainland during the week-long vacation.

Office Director Joao Mannuel Costa Antunes said that the National Day travel stimulated by the policy is estimated to see a 15 per cent increase of tourists over the same period last year.