Premier Wen in Bali for ASEAN summit
( 2003-10-07 09:08) (China Daily)
Premier Wen Jiabao arrived in Bali yesterday to attend the ASEAN summit together with leaders from Japan and the Republic of Korea.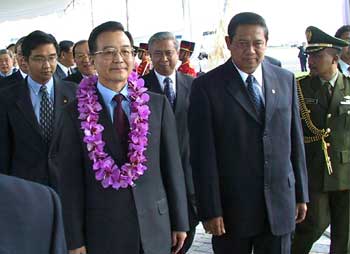 Premier Wen Jiabao (L) is welcomed by Indonesian officials in Nusa Dua, on the Indonesian resort island of Bali on Monday, Oct 6, 2003. Wen was there to attend a regional summit with ASEAN countries. [newsphoto.com.cn]

He met leaders of some Association of Southeast Asian Nations member countries, highlighting the further improvement of ties.

When meeting Vietnamese Prime Minister Phan Van Khai, Wen said China and Viet Nam should make joint efforts to maintain order over fishing in Beibu Bay, an issue the two sides are trying to resolve through negotiations.

In Bali, Wen is scheduled to attend the seventh summit of ASEAN plus China, Japan and the Republic of Korea, the summit of ASEAN plus China and the fifth summit of Chinese, Japanese and South Korean leaders.

He said bilateral relations with Viet Nam are developing very well.

However, Wen said the two countries should also pay more attention to problems in current bilateral relations and resolve them appropriately.

He said the two countries should finish following up on negotiations concerning an agreement on fishing co-operation in Beibu Bay at an early date. The two countries signed the agreement in Beijing in December 2000.

Wen said the two countries should avoid any future incidents that would harming the interests of fishing crews.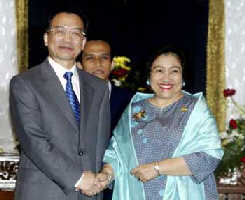 Premier Wen Jiabao (L) shakes hands with Indonesian President Megawati Sukarnoputri (R) before a bilateral meeting ahead of a regional summit in Nusa Dua, on the Indonesian resort island of Bali October 6, 2003. The leaders from ASEAN will meet with the leaders of India, South Korea, China and Japan in Bali from October 7-8. [Reuters]

Phan said that Viet Nam is willing to be a good neighbour, partner, friend and comrade of China.

He promised that the Vietnamese Government will take practical measures to appropriately resolve problems between the two sides.

Wen also had separate meetings with leaders from Brunei, Indonesia and Myanmar.

He told Myanmar Prime Minister Khin Nyunt that China hopes Myanmar can maintain stability, develop its economy and push the process of national reconciliation.

China is willing to strengthen relations with Myanmar in agriculture, resources development, infrastructure construction, the fight against narcotics and the crackdown on cross-border crime, said Wen.

The Myanmar leader said the rapid development of bilateral relations has brought benefits to people from both nations, and he thanked China for its help and support.

When meeting Indonesian President Megawati Soekarnoputri, Wen said the present bilateral relations are the best in history and called for joint efforts to push forward regional partnership.

Wen also expressed appreciation for Indonesia's one-China policy.

Megawati said the Indonesian Government is devoted to developing the economy and maintaining social stability. She said Jakarta hopes to deepen ties with Beijing.

After their meeting, the two countries signed three agreements on bilateral economic and technological co-operation.

Wen told Brunei's Sultan Hassanal Bolkiah at their meeting that China wants to import more oil from Brunei and take part in oil and gas development and the construction of infrastructure facilities in Brunei.

Bolkiah said that Brunei will increase bilateral trade and push exchanges between the two countries.

Wen is expected to talk with leaders of ASEAN as well as Japan and South Korea on pushing economic integration in a variety of areas at the summit meeting. China will also formally accede to the Treaty of Amity and Co-operation in Southeast Asia at the ASEAN and China summit tomorrow.

ASEAN includes Brunei, Cambodia, Indonesia, Laos, Malaysia, Myanmar, the Philippines, Singapore, Thailand and Viet Nam.