Beijingers spend lives on road as traffic congestion worsens
( 2003-10-06 14:55) (Xinhua)
While many European countries are marking car-free days, Beijingers remain stuck in traffic as the number of automobiles in the Chinese capital has surpassed two million.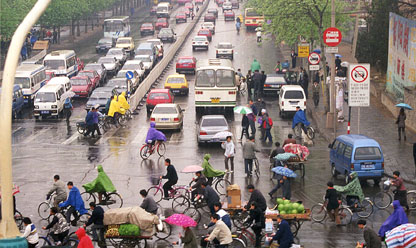 Beijing, which boasts the country's best and broadest roads like the famous Chang'an Avenue, began to first suffer traffic problems some 10 years ago. In 2002, Beijing recorded a total of 16,789 traffic jams, with "rush hour" actually consuming 11 hours of the day.
Beijing residents often joke that the time they spend on the way to work often turns out to be longer than their actual working hours.
"One weekend, I drove to the suburban Miyun County to attend a friend's wedding party, and it took me four hours to cover the almost 80-km distance," said Zhao Ping, a white collar worker in a Beijing joint venture. "When I got there, the party was already over."
According to Duan Liren, former deputy director of the Beijing Traffic Control Bureau, Beijing has witnessed a net increase of one million vehicles in the past seven years, and in the coming three or four years, the number is expected to grow by a further more than three million.
To alleviate the pressure on roads, the Beijing municipal government has since 2000 spent more than 10 billion yuan (1.2 billion US dollars) a year upgrading the local roads. From 1997 to 2002, Beijing's total road length has increased by more than 2,000 kilometers.
However, these efforts still cannot keep up with the need for roads, which arises from Beijing's population growth and urban development. Between 1991 and 2002, the capital's population has increased by nearly 3.8 million, including 1.5 million migrant workers, causing a sharp rise in the number of daily commuters.
Meanwhile, Beijing's urban design layout also worsens the situation. Due to the original city planning, many government offices, shopping centers and large enterprises are located in the downtown area of Beijing, while most of their employees live far away and even in the suburban areas. It has become a major burden on the local public transportation system to carry them in and out of the city during rush hours.
Some traffic experts also claimed that Beijing's worsening traffic situation could be partly attributed to the excessive number of taxis on the streets.
There are now 6,300 taxis in Beijing, most being in service for 10 to 12 hours a day. However, experts point out that for at least half of their service hours, these taxis are without occupants, causing a huge waste of road resources.
Feeling pressure from surging public complaints, the Beijing city government is now considering measures to improve the situation, one of which is to encourage more local citizens to use public transportation or car pool.
He Zuoxiu, a scholar with the Chinese Academy of Sciences, has suggested the city's surface and underground public transportation systems be "integrated", enabling people to move around as conveniently as driving their own cars.
"For example, bus stations should be placed at or near subway entrances and exits to make it easier for those who need to take more than one public transportation on their outings," said He.
Government sources also revealed that in the next few years, Beijing would adopt a policy of charging different parking fees for different vehicles. Private cars will have to pay more for parking, especially in areas already frequently congested, while parking at major public transportation facilities in suburban areas could be very cheap or even free.
Yu Changchun, deputy director of the Beijing Traffic Control Bureau, added that Beijing was going to establish an "intelligent transportation system" by 2008, when the city will play host to the Summer Olympics.
"With this system in operation, local drivers could use mobile or stationary phones as well as the Internet, to acquire traffic information covering the whole city before they hit the roads. Moreover, such information will be updated every 5 to 10 minutes, to help the drivers always choose the fastest routes and avoid congestion," said Yu.
Local taxi drivers hope this "intelligent system" would include a distance taxi hailing service, which would save them a lot of time and gas.
"Calling a taxi by phone is a good idea," said Chen Yusong, a local veteran taxi driver. "When this service is available, I'm sure there will be fewer empty taxis on the city's roads."