Shanghai treated to skydiving spectacle
( 2003-10-06 09:16) (China Daily)
A team of 16 international skydivers successfully finished a group jump yesterday from the top of Jinmao Tower, the tallest building on the Chinese mainland.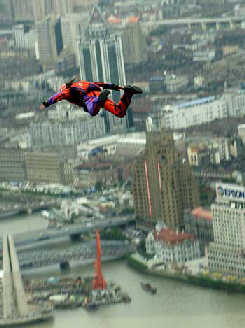 A participant in an international skydiving event in Shanghai leaps from the top of Jinmao Tower in the city, the tallest building on the Chinese mainland on Sunday, Oct. 5, 2003. A total of 16 skydivers from the United States, Norway, Sweden, Mexico and the Netherlands successfully finished a group jump on Sunday. [newsphoto.com.cn]

This event, organized by the Shanghai Sports Bureau and China Jinmao Group Co Ltd, was the country's first BASE (Building Antenna Span Earth) jumping event.

At 3:10 pm, the first jumper, Terje Halvorsen from Norway, jumped from the 420.8-metre-high tower. After several seconds of free-falling, he opened his parachute to the applause of thousands onlookers who had waited for three hours to watch the event.

Later, jumpers from the United States, Norway, Mexico, Sweden and the Netherlands jumped either alone or in pairs. By the end, the 16 people finished the event with a group jumping with national flags.

The average time for each jumper in the sky was estimated to have been about 30 seconds. Keeping safety in mind, they were asked to open the parachute at least at 200 metres high.

"The feeling in the sky was a little scared, though I had experienced (BASE jumping) about 170 times... But when the parachute opened, it was really -- wow!'' said Lisa Denise Boger from the United States, one of two women jumpers who took part in the event. "I flew like a bird and enjoyed the view. Shanghai is really beautiful.''

Boger, together with Denise Maria Williams, showed the crowd a pair jump. Because the wind was somewhat stronger than expected, their landing was at an intersection about 30 metres away from the destination. The jump drew big applause from the crowd.

"But the landing was good!'' said Boger. "And the construction of Jinmao is the most amazing I have ever seen and jumped.''

"To most of us, the Jinmao Tower is the highest building we have ever jumped,'' said Harry Parker from the United States, the lead skydiver who has jumped from atop about 20 high buildings around the world.

"Actually, I have waited for years to be part of 'China's first high-rise jump','' Halvorsen said. It has been a dream of his to jump from China's highest skyscraper since it was built.

BASE jumping originated in the United States in 1975. It then became popular in Europe. The jumpers are expected to not only be brave, but should also have a wide knowledge of wind direction, speed and gravitation.