China demands immediate weapons clean-up by Japan
( 2003-10-04 10:05) (chinadaily.com.cn)
The Chinese government is demanding Japanese government settle follow-up issues related to the abandoned chemical weapons incident in Qiqihar, a city in northeast China's Heilongjiang Province, as quickly as possible.
Foreign Minister Li Zhaoxing summoned the Japanese ambassador to China Koreshige Anami yesterday.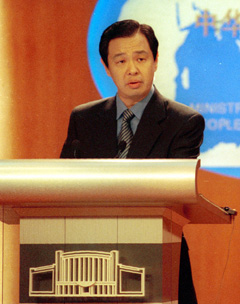 Kong Quan
With regard to the case of Japan's chemical weapons abandoned in China, it constitutes a major historical issue between China and Japan, and it is also a practical issue that calls for an immediate solution, Li said.
A fatal toxic gas leak from abandoned Japanese chemical weapons killed one person and injured 42 others when barrels of mustard gas were dug up at a construction site in Qiqihar in early August.
On handling the follow-up issues, Japan has acted slowly and is inconsistent with public statements made by Japanese leaders, Li noted. This has drawn strong discontent and resentment from the general public as well as victims in China.
"The settlement of follow-up issues and provision for humanitarian relief is a matter of prime urgency," said Li, adding that "we solemnly demand the Japanese side take it seriously and resolve it as promptly as possible."
The Qiqihar incident once again shows both the urgency and importance of settling the chemical weapons issue to safeguard the Chinese people's fundamental interests, security and personal health, said Li.
China hopes the Japanese government will undertake the responsibility of destroying all chemical weapons abandoned in China, in compliance with international principles and agreements reached by the two governments, said the foreign minister.
In Tokyo, the Japanese government yesterday appealed a lower court ruling awarding 190 million yen (US$1.7 million) in damages to a group of Chinese for injuries or deaths caused by chemical weapons abandoned in China by Japan's wartime military.
Its decision to appeal to a higher court cited a "discrepancy" between rulings on two recent compensation cases involving abandoned weapons, said a Japanese Foreign Ministry official.
On Monday, the Tokyo District Court ruled that the Japanese government had been negligent in recovering abandoned chemical weapons in China and was responsible for the plaintiffs' suffering. The survivors claim that disabilities related to poison gas exposure have kept them from keeping jobs.
Earlier in May, the same court rejected a similar claim from a separate group of five Chinese.