Food feasts during holiday week
( 2003-10-03 09:29) (China Daily)
Lovers of Chinese cuisine have many topnotch choices in Beijing these days, especially during the National Day holiday week, which started on Wednesday.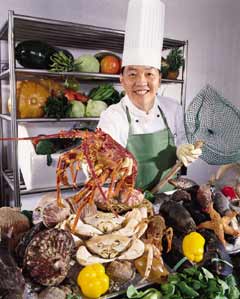 Tian Qiuming, sous chef at the 21st Floor Restaurant of the Great Wall Sheraton Hotel, gets ready to prepare a huge banquet.

While sticking to traditional styles, chefs -- especially those in brand-name restaurants -- have also created some new specialities for food lovers to enjoy.

The Qianmen Quanjude Beijing Roast Duck Restaurant, the oldest Beijing roast duck eatery in Beijing which opened in 1884 during the reign of Emperor Tongzhi in the Qing Dynasty (1644-1911), has maintained its fine reputation among its customers thanks to its authentic dishes, reasonable prices and traditional environment featuring "old Beijing.''

The restaurant, which can seat about 900, expects to feed about 4,000 diners during each day of the holidays.

In this restaurant, Beijing roast duck is a must on the menu but their chefs are still eager to add their own creative flair to the traditional menu.

One of the special offerings for the National Day holiday week is "Gali xiangling" diced duck cooked with sheets of bean curd, which delivers a crispy, fresh taste.

It is a creation mixing the old style of Quanjude and the new elements originally from the dishes popular in the south of the Yangtze River, according to master chef Zhang Yubao.

The duck's flavour matches the bean curd perfectly, Zhang said. But there is something more than the special flavour, as the dish has a unique sound as it is being consumed.

"The ring-like sound should arouse the appetite,'' Zhang said.

Another chef's recommendation is "Qianfu qunbian" or turtle meat and duck casserole, which is an impressive display of bright colours and beautiful shapes.

Zhang said he and his colleagues are also more than happy to put together more of the seasoned specialities as well, which range from abalone and duck breast with chili sauce to duck-like pastry and stewed snake-headed fish egg with duck tongue.

Shanxi palate

Jingyang Restaurant, with a capacity of around 600, is the only large and established restaurant in Beijing that offers platters with a flavour of North China's Shanxi Province. It has enjoyed continued popularity among punters despite the fact that eateries featuring southern dishes are very popular in the capital city these days. Usually there are up to about 2,000 diners eating at the outlet on each day of the holiday.

Rebuilt over an old courtyard , Jinyang Restaurant was once the residence of Ji Xiaolan, one of the great scholars during the Qing Dynasty, and the chief compiler and editor of the "Siku Quanshu" (Complete Library of the Four Branches).''

The restaurant mainly offers family feasts. On the menu during the holiday week are crispy duck, happiness cakes and stir-fried pork slices with black fungus.

Crispy duck is the most famous dish associated with the restaurant.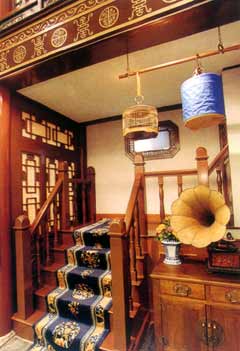 A corner of the Qianmen Quanjude Beijing Roast Duck Restaurant displays some of the traditional decorative items in this oldest Beijing roast duck eatery in Beijing, which opened in 1884.
As its name indicates, the duck, with a special, tantalizing scent, is tender and crispy, though a little oily.
To achieve such crispiness, the duck is marinated in a special sauce for three to four hours and then steamed for 10 hours before it is air-dried and fried.
When ready, it is ceremoniously presented as a whole.
"Tounao mutton stewed with lotus root and yam, is also a must. The dish is served as a soup with a plate of pickled chives as a side dish.
An interesting story about the well-known dish has been widely circulated among locals.
According to legend, an erudite scholar of the Ming Dynasty (1368-1644) used mutton, yam and millet wine as the ingredients for a soup. He cooked it specially for his aged and weak mother every day. Several months past and his mother recovered from her illness. Since then, the recipe for the nourishing soup has spread and been passed down through the generations.
Now, the soup has become one of the chef's recommendations at Jinyang Restaurant.
Savour over a vista
Leading hotels in Beijing have worked hard to compete against the city's thousands of restaurants.
According to Tian Qiuming, a sous chef at the 21st Floor Restaurant of the Great Wall Sheraton Hotel, he and most of his colleagues will work throughout the holidays.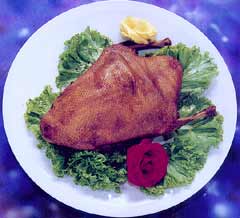 The crispy duck is one of the Jingyang Restaurant's specials for the National Day holiday week.

Tian's colleagues include eight chefs from South China's Guangdong Province and four from Southwest China's Sichuan Province.

Together, they have prepared set menus and hope that customers book ahead and ask for a window table -- and then being their appetites.

The panoramic view of Beijing in early autumn is enchanting.

The holiday menus contain 10 courses from cold dishes to fresh fruit and a fusion of the best of Sichuan and Cantonese cuisine, according to Tian.

Braised king prawns in chili and garlic sauce is one of the restaurant's most-recommended specialties.

Chefs first mix king prawns with chicken powder, salt and Chinese cooking wine, and then dip them into bread grain. They then fry them until turning golden. Diners must dip the prawns into superior sauces before eating.

Shark's fin soup with other seafood and golden mushroom may turn out to be another popular choice.

Diners trying the set menu for the first time must keep one thing in mind, chefs warn, do not eat in a hurry -- there will be more to come.