Thousands tie knot as new rules take effect
( 2003-10-02 11:12) (Xinhua)
Tens of thousands of Chinese couples queued in front of marriage registration offices around the country Wednesday to legitimize their wedding as China's new marriage registration regulations take effect on Oct. 1, China's National Day.
Beginning Wednesday, couples in China can tie the knot without a health examination or a letter from their employers testifying their unmarried status.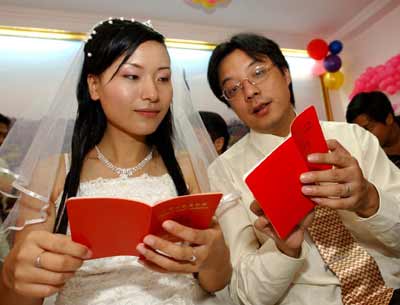 A couple look at their marriage certificate after registration October 1, 2003 in Hangzhou, East China's Zhejiang Province. [newsphoto.com.cn]
All the marriage registration departments in China are ordered to stay at work, for the first time, during the national week-long holiday in preparation for a possible marriage wave sparked by the new rules, said Zhang Mingliang, director-general of the grassroots governments and community development department with the Ministry of Civil Affairs.
"Marriage registration offices around the country should carefully adjust their working hours to ensure a smooth process of the marriage registration," said Zhang, who is in charge of the registration work in the country.
Analysts say the number of couples registering for marriage may rise to a record high during the holiday as the new rules further relax constraints on marriage.
At 5:00 in the morning, dozens of couples began waiting outside registration offices in Xuhui District, Shanghai.
"We hope the National Day will add to our happy day," smiled 28- year-old Pang Ying, who with her Japanese boyfriend Tanino Takayoshi became Shanghai's first couple registering their marriage under the new rules.
In major cities like Shanghai and Guangzhou, all the wedding banquets in luxury hotels during the week-long holiday are booked out for weddings.
Local officials said more than 100 couples in Chongqing, the biggest city in west China, had telephoned local marriage registration offices in advance saying they would register on Oct. 1.
In China's capital Beijing, marriage registration offices have been told by the municipal authorities to "stay at work as long as couples are queuing for registration" on the National Day.
"We feel really happy to get married without a letter from our employers testifying our marriage status or a forced health examination," said Wu Wei, as he and his girlfriend became the 84th couple to register their marriage at a registration office in Furong District, Changsha, capital of central China's Hunan Province.
Under the new regulations, couples need only show their ID cards and residency papers and sign a document stating they are not married or related to register their marriages, thus stopping the involvement of "Danwei" or the state-owned working units, which was previously essential.
Zhang, a civil affairs official, said the new marriage regulations and its working norms must be obeyed by officials.
"Those who force prospective newlywed couples to have health examinations, or charge extra fees will face severe punishment," he warned.
Analysts say the development of the private economy and the increasing floating population make it impossible to continue the old requirements, which were adopted in 1994.
The old requirements were suitable only in the old planned economy era when a person's work unit controlled many aspects of people's life including housing, health care and children's education.
Requirements waived in the new marriage registration rules also include the demand forcing people to undergo health examinations before they wed.
Among the queues are also those couples who want to end their love.
"We came here because we can't continue our relationship," said a young man who just had his divorce registered in Xining, capital of northwest China's Qinghai Province.
"We don't want to wait for others to mediate our relations," he said.
In the past, a couple had to wait for a month mediation from civil affairs departments before getting divorced, a requirement also abolished in the new marriage registration regulations.
However, migrant couples will still have to apply to marry or divorce in either spouse's home province, rather than register in a third place.
The number of Chinese registering for marriage dropped from some 8.92 million couples in 1998 to 7.86 million last year, according to the All-China Women's Federation. But the number of divorces has remained stable in the past five years, at about 1.2 million each year.