National Holiday becomes "wedding week"
( 2003-10-01 11:39) (Xinhua)
A man named Li, who has worked for almost three years in north China's Tianjin Municipality, is troubled by five simultaneously-arriving invitations for weddings of his friends and former classmates.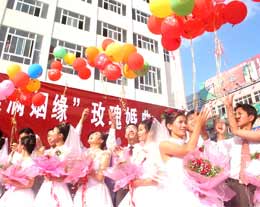 A group wedding ceremony is held in Dafeng, East China's Jiangsu Province September 29, 2003. [newsphoto.com.cn]

It means that not only will his schedule for the National Holiday be very tight for those wedding ceremonies, but also he will be strapped for cash for a while as each invitation means one "red package" or one sum of gift money.

Li is by no means an exception. October in China, especially during the National Holiday which lasts from Oct. 1 to 7, is long regarded as a golden season for weddings.

All wedding ceremony promotion companies in Tianjin are now in booming business. All their wedding cars have been rented and tables in luxurious restaurants are almost all booked.

According to wedding ceremony promotion companies, most local residents picked Sept. 27, Sept. 28, Oct. 2 and Oct. 6 as the most auspicious days for getting married, in line with the traditional Chinese calendar.

The newest statistics released by the city's urban situation survey group shows that nowadays, a couple spends an average of 190,000 yuan for their marriage. Among the sum, about 13,100 yuan is spent on the wedding banquet. And 62.9 percent of surveyed newlyweds prefer to entrust certain wedding ceremony promotion companies to organize the wedding ceremony for them.

In a bid to offer convenience to newlyweds, civil affairs departments in 18 districts and counties of Tianjin will remain open during the seven-day-long National Holiday.