Preisdent calls for political system reform
( 2003-10-01 11:39) (Xinhua)
Hu Jintao, general secretary of the Central Committee of the Communist Party of China (CPC), Tuesday called for active and steady promotion of political system reform, expansion of socialist democracy and improvement of the socialist legal system.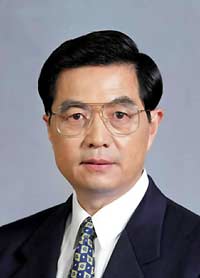 At a lecture given to the CPC Central Committee Political Bureau, Hu stressed the importance of socialist political ethics, saying improvement must be fully realized from the strategic level of building a well-off society in an all-round way.
The lecture, with the theme of governance by law and improvement of political ethics, was jointly given by Lin Shangli, a professor at Fudan University, and Li Lin, a research fellow with the Chinese Academy of Social Sciences.
Hu, also president of China, said the improvement of political ethics is based on the leadership of the Party, people's ruling and governance by law. To this end efforts must be made to explore new ways and approaches for resolving new problems.
He also called for efforts to expand citizens' orderly participation in political affairs and guarantee the people's rights to carry out democratic election, decision making, management and supervision according to law.
All the policies of the Party and the government must be in the interests of the people and meet the needs for economic and social development, he said.
Efforts should also be made to quicken the pace of legislation and improve the quality of laws, and stick to administration by law and judicial justice so as to provide a strong legal guarantee for building an affluent society in an all-round way.
The reform of the judicial systems must be pushed forward to ensure social fairness and justice, and the supervisory systems should be improved to ensure that the power given by the people be used to serve the people, Hu said.