Japan checking into reports of rowdy Japanese in China
( 2003-09-30 16:33) (Agencies)
Japan's foreign minister said Tuesday officials were checking into complaints that Japanese tourists hired hundreds of prostitutes for an orgy in China on a sensitive World War II anniversary.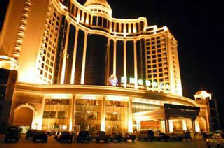 A general view of the five-star International Conference Hotel in Zhuhai which was closed by police after a sex scandal involving about 400 Japanese tourists and 500 local prostitutes on September 18, 2003. China has detained suspects involving in the scandal. [Reuters]

Foreign Minister Yoriko Kawaguchi said Tokyo had yet to determine whether the reports that hundreds of Japanese men, believed to be on a company tour, hired as many as 500 prostitutes in the southern city of Zhuhai, near Macau.

``China is looking into it and the Japanese government is also collecting information,'' she said. ``We don't know at this point what exactly happened.''

Chinese news reports said more than 400 Japanese male tourists had sex with Chinese prostitutes at the Zhuhai International Conference Center Hotel from Sept. 16-18, which is the anniversary of an attack by Japanese forces in 1931 that China regards as the start of its World War II occupation.

Chinese Foreign Ministry spokesman Kong Quan has called the case ``extremely odious'' and asked the Japanese government to ``strengthen education of its citizens in this regard.''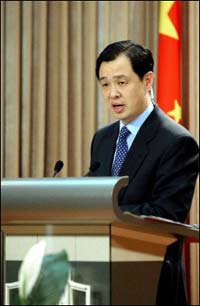 Kong Quan
The fracas has been carried prominently by Japan's media, which have reported the tourists were in China as part of a trip arranged by a construction company based in the western Japan city of Osaka.
The name of the company, which has reportedly denied any involvement in procuring prostitutes, has been withheld by the media, however.
``If this is a fact, legally speaking at least, the Japanese should not commit any act that would be against the law in China,'' Kawaguchi said. ``More importantly, I regret the kind of act that would damage women's dignity would be committed in a foreign country.''