SARS and flu: the double threat
( 2003-09-30 10:02) (China Daily)
Autumn's cooler days create ideal conditions for flu. Now that a possible re-emergence of SARS is added to the mix, the medical community and the public are doing all they can to stave off another epidemic.
Sainawayr, an ethnic Ugyur woman who works as an intern at the Beijing Centre for Disease Prevention and Control (CDC), seemed about to collapse from exhaustion after handling the centre's anti-flu hotline. "I knew the line would be busy, but not that busy," she says in a raspy voice. "The telephone keeps ringing and everyone asks the same questions: when and where can they get a flu vaccination."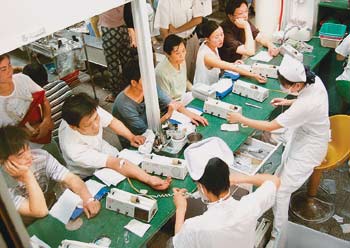 Medical staff treat flu patients in Ningbo, Zhejiang Province. Experts warn that the October-to-March flu season could coincide with a new outbreak of SARS. [newsphoto.com.cn]
More than 800 people swarmed into the centre in two days after September 15 when it was designated as one of 427 clinics in Beijing providing vaccinations against flu. Doctors at such clinics are busy, so busy they have to take turns for their lunch hours, according to epidemiologist He Xiong. As deputy director of the Beijing CDC, He is helping supervise the current campaign against influenza across the city.
Within the two-month period from September to November 15, Beijing will provide 1.5 million people with doses of the flu vaccine, compared to 400,000 doses provided last year, which were made available at 300 clinics. "This year's anti-flu campaign is different, in that it comes alongside precautions against SARS (severe acute respiratory syndrome) making a possible comeback," says He.
As an epidemiological rule, influenza viruses become increasingly active when autumn sets in and temperatures begin to drop. This can lead to an outbreak of influenza in winter and spring, to which cold, dry regions such as Beijing are highly vulnerable. Worldwide, the disease infects up to 20 per cent of the human race during the seasonal epidemic, resulting in up to five million severe cases and 250,000 to 500,000 deaths each year, according to the World Health Organization (WHO).
"Beijing, in particular, needs to be on the alert," He says. "Although influenza is not scientifically linked to SARS, we still deem it necessary to strengthen our reserves in our preparation for a possible return of SARS."
SARS hit China in early March and lingered to late June. According to the latest report from the Ministry of Health, the epidemic took 394 lives on the mainland, not including those who were diagnosed as suffering from SARS but actually died of other diseases. In Beijing, the number of deaths directly caused by SARS exceeded 100. The Chinese capital was virtually paralyzed before the WHO revoked a travel advisory against visiting the city on June 24. The October-to-March flu season could coincide with a new occurrence of SARS.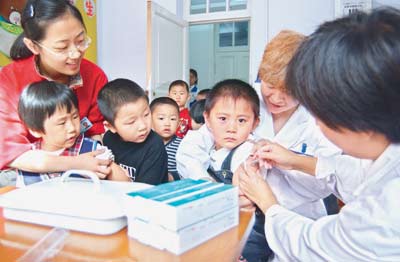 Kindergarteners receive flu vaccinations in Harbin, Heilongjiang Province. [newsphoto.com.cn]
Fearing that the autumn flu season could see a possible re-emergence of the highly infectious and sometimes deadly disease, the State Council, China's highest governing body, has ordered local governments to conduct drills in preparation for any emergency situation. The Ministry of Health, for its part, has resumed the daily SARS reporting system even though there are currently no confirmed or suspected SARS cases.
He Xiong and his colleagues at the Beijing CDC note that flu and SARS patients share some symptoms, including fever, muscle pain or coughing in the early stages, and that a SARS patient could easily being misdiagnosed as suffering from influenza. "Along with reducing the number of flu out-patients, flu vaccinations also make cross-infection between flu and SARS patients less possible," he says.
For this reason, they note, the anti-flu vaccination campaign for this year has been started a month earlier than usual. In addition to the designated vaccination clinics, Beijing is operating 36 flu-monitoring stations, 20 more than last year. The first flu-monitoring station for 2002 opened in mid-November. In contrast, all the stations for this year are already up and running, before winter sets in.
On July 5, the WHO announced that the global SARS epidemic had come to an end. But not long afterwards, Singapore reported a new SARS case. Experts at the Beijing Municipal Health Bureau and the Beijing CDC admit that a sense of urgency prompted authorities to decide on an earlier, more effective campaign against influenza. "The best thing we can do at this stage is take precautions against flu," He Xiong says. "The measure, at the very least, could reduce the chances of cross-infection and relieve doctors of the burden of differentiating between flu patients and SARS patients."
The same sense of urgency is prompting citizens to get vaccinated against flu. Pang Xiuying, from a poverty-stricken rural village in Jiangxi Province, southern China, earns just 400 yuan (US$48) a month by working as a waitress in a restaurant. Despite her meagre income, the 17-year-old paid 64.4 yuan (US$7.80) for a flu vaccination. "I'm in contact with diners day after day, from morning to night," she says. "So it is all the more important for me to be on my guard. I'll lose my job if I fall ill."
Flu vaccinations are strongly recommended for service industry workers such as Pang, as well as for people 60 and older, sufferers of chronic diseases, medical workers, students and kindergarteners.
Liu Guoshun, a man in his late 30s who owns a small company in Beijing says he has never been vaccinated against any disease before, but now he wants to be sure that he won't catch the flu. "It's all because of SARS," he admits. "The SARS epidemic taught me an important lesson about the need to take care of my own health. I have decided to have everyone in my family vaccinated as well."
Officials and experts are happy that citizens are so enthusiastic about the anti-flu campaign. "Everything has two sides, positive and negative," says He Xiong, echoing a philosophical concept advanced by the late Chairman Mao Zedong. "The SARS epidemic that struck earlier this year was certainly bad for the world, for China and for its capital, Beijing, in particular. At the same time, it was 'good' in that our people were able to learn, through it, how to protect themselves against diseases. In the long run, this heightened public awareness will do the country a lot of good."
Epidemic outbreak highlights weak links in waste disposal
With the SARS outbreak fresh in their minds, environmentalists are pressing for improved sanitation conditions and waste disposal methods.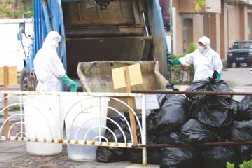 Huge amounts of medical waste was being produced in Beijing when the SARS epidemic peaked in late May. [newsphoto.com.cn]

In a recent but little reported development, the State Environmental Protection Administration (SEPA) has submitted a plan to the State Council for setting up centres across the country to dispose of what it terms as "dangerous wastes".

"Medical wastes are classified in our plan as 'dangerous'," Wang Shancheng, a SEPA official, says. "We believe that medical wastes are no less dangerous to human health than the radioactive wastes and toxic particles discharged by some industries."

Details of the plan have yet to be published, pending approval by the State Council. Wang, however, discloses that the plan calls for establishing two to three hundred medical waste disposal centres nationwide over the next two or three years.

Sources with the Beijing municipal government say that the Chinese capital is to build two new medical waste disposal centres between now and the end of 2004, which are expected to handle 60 tons of waste per day.

Beijing was among the world's hardest hit regions during the SARS epidemic earlier this year, reporting 193 deaths in total. Before the epidemic struck, hospitals in the city were producing, on average, 41 tons of medical waste per day. But with only two incinerators to burn the waste, even at full capacity, the city was only able to dispose of about 10 tons per day, according to an official with the Beijing Municipal Administration Committee.

The amount of SARS garbage, a major source of infection, continued to grow as the situation worsened, from about 50 tons on April 30 to 70 tons on May 7. From time to time, as many as 150 tons per day were being produced when the SARS epidemic peaked in late May. The city was completely unprepared for the onslaught. "We had no specially designed vehicles to transport infectious medical waste," says Lu Jianguo with the Beijing No 2 General Sanitation Engineering Co. "We had to order such vehicles from elsewhere. After the first shipment arrived on April 24, we had to put some of the trucks to work even before they had licence plates." The company, which operates under the Beijing Municipal Administration Committee, is responsible for the city's general sanitation.

The panic-stricken municipal authorities also placed emergency orders for incinerators wherever they were available, in China or abroad. Altogether, 42 incinerators were purchased, along with 90 airtight trucks for transporting waste and garbage from hospitals handling SARS cases, along with which 17 incineration stations were set up. In mid-May, the first two new incinerators were put into use in the Daxing and Haidian districts, respectively. "The temperature inside the combustion chamber (of an incinerator) is as high as 850 degrees centigrade, enough to melt iron let alone the kind of coronavirus scientists have identified as the culprit of SARS," Lu says.

Altogether, 500 sanitation workers were organized into special teams to transport and burn SARS garbage. "They worked day in and day out to help fight the epidemic, and it was not until August 1 that they were able to remove their protective suits and masks," Lu recalls.

Officials and experts with the Ministry of Health and Beijing municipal government admit that the SARS epidemic taught China an "important lesson". They agree that on no account must China slacken its vigilance against SARS, as there is still so little known about it.

As Wang Shancheng puts it, however, the SEPA plan is meant not only to cope with a possible return of SARS but also to address the country's environmental concerns.

Centralized disposal

A survey conducted by Nie Yongfeng, a professor at the Department of Environmental Science and Engineering of Tsinghua University, indicates that about 90 per cent of medical waste produced in China is buried like household garbage. "This practice has caused a myriad of environmental problems and could be a long-term threat to soil and water sources," the professor notes.

Of the medical waste produced across the country, the professor continues, only 10 per cent is burned in incinerators. Hospitals in nearly all large and medium-sized cities in the country have no up-to-standard incineration facilities. According to Professor Nie, the disposal process of substandard incinerators is too rudimentary to eliminate harmful and poisonous substances found in medical waste. In fact, they actually produce particles that pollute the air. "I think that a centralized incineration of medical waste should be set up on the spot or in the neighbourhood," Professor Nie says.

He adds: "Centralized disposal of medical waste must be done with technologically advanced and reliable facilities, and medical waste disposed of in this way should be buried deep, preferably 50 metres underground, in order to be safe."

Incineration is costly compared to other methods of disposal. But Nie and other experts stress that after incineration, the amount of solid wastes can be reduced by 80 to 90 per cent, thus requiring far less burial space. "Besides," Nie adds, "the heat produced during the combustion process can be used to generate electricity.

"While the situation in China is complicated," Nie continues, "'we still have the ways and means to determine the output of medical waste and find out where such waste ends up. We can, if we try, ensure thoroughly effective control of medical waste disposal."

He suggests that hospitals classify waste, as required, before sending it to disposal centres. They should take drastic measures to guarantee that the waste they produce is handled under strict supervision and through permitted channels. He insists that all hospitals be fitted with facilities for proper disposal of their waste.

"The government should emphasize practical results and set a higher standard for medical waste disposal," Nie says. "It's worthwhile for both public health and environmental protection."