Victims win compensation in toxic lawsuit
( 2003-09-30 08:46) (China Daily)
A Tokyo court ordered the Japanese Government Monday to pay compensation to 13 Chinese citizens for harm caused by chemical weapons left in China by Japanese troops in World War II.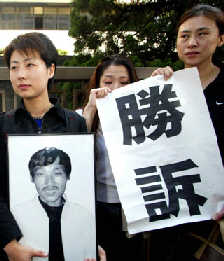 Liu Min (left), one of the 13 Chinese plaintiffs suing Japanese Government for compensation for damages caused to their families by chemical weapons left over in China by Japanese invading troops during World War II, react to reporters after the Tokyo District Court awarded the families US$1.7 million. Liu's father was seriously injured after trying to dismantle a remaining Japanese shell in August 1995, and died later. [Xinhua]
The Tokyo District Court on Monday ordered the government to pay a combined total of 190 million yen (US$1.7 million) to the 13 -- seven survivors and six people representing three victims who have died.
The lawsuits, initiated in 1996, involved the leaking of toxic chemical agents and shell explosions between 1974 and 1995.
The court ruled that the Japanese Government had been neglectful in dealing with chemical weapons abandoned in China.
Presiding judge Yoshihiro Katayama said that it was possible for Japan to provide China with information about the weapons so that China could dispose of them promptly and appropriately.
He said it would be "against the notion of justice and fairness'' to reject the compensation claim even though some of the claims were raised after the 20-year limit for filing a lawsuit.
A Japanese government official called the ruling "harsh.''
Deputy Chief Cabinet Secretary Masaaki Yamazaki said: "I think it is a very severe ruling for our country. There is nothing more to say because we haven't sufficiently considered the contents.''
He declined to say if the government would appeal.
Li Chen, a 59-year-old plaintiff, said the ruling "got justice for the Chinese, got justice for the victims.''
On October 24, 1974, he and two others were hurt by mustard gas leaking from a shell found in the course of dredging in the city of Jiamusi in Northeast China's Heilongjiang Province. One of the victims died in July 1991.
Liu Min, a 27-year-old plaintiff, said: "I am grateful to the Chinese and Japanese lawyers for their persistent efforts over the past eight years. I hope the Japanese Government can pay attention to the issue of abandoned chemical weapons and dispose of them appropriately to avoid further similar tragedies.''
Her father was seriously injured after trying to dismantle a Japanese shell in August 1995 and he died later.
Four other plaintiffs were injured by mustard gas on July 16, 1982 in the city of Mudanjiang in Heilongjiang.
On August 29, 1995, an explosion killed two people and injured another in the city of Shuangcheng in Heilongjiang.
The Tokyo District Court heard a similar case in May this year, when it recognized the harm done by the chemical weapons to the Chinese victims but refused the compensation claim.
According to an investigation carried out by Chinese researchers, the invading Japanese forces left about 2 million chemical bombs and 100 tons of poison in China.