China unveils anti-SARS taskforce
( 2003-09-29 15:25) (cnn.com)
Beijing has unveiled a new anti-SARS government taskforce aimed at preventing any future outbreaks of the virus.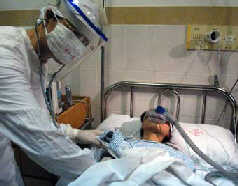 Chinese medics show how to treat a 'patient' suspected of suffering from SARS during a hospital drill in South China's Guangdong Province. [newsphoto.com.cn]
The inter-departmental Command Center for the Prevention of SARS will begin operating immediately after the October 1 National Day holidays.
The center will consist of medical and other personnel from more than a dozen Communist Party, government and military departments, according to media reports.
It will be headed by Vice-Premier and Health Minister Wu Yi, who played a key role in the campaign to stem out the severe acute respiratory syndrome (SARS) outbreak earlier this year.
The virus, believed to have jumped from animals to humans, first surfaced in southern China last November.
More than 8,000 people worldwide were infected, with over 900 dying from the disease. In Chinese mainland, there were 5,327 cases and 349 deaths.
The World Health Organization in July declared the SARS outbreak contained around the world but has warned the disease could resurface again in winter.
Under the new Chinese guidelines for dealing with SARS, once a case has been discovered anywhere in the country, the entire nation will be put on alert.
The Beijing-based center will then direct efforts to quarantine and attend to the affected patients and their relatives and co-workers.
SARS training
The China Youth Daily reported that from last week, hospitals and specialist clinics in the capital's 18 districts and counties began an intensive series of anti-SARS preventive exercises.
Throughout this month, more than 3,000 doctors and nurses in Beijing's 350 medical facilities have received training in the prevention and handling of SARS and other infectious diseases.
A spokesman of the Beijing Health Department said central health authorities had demanded that by the end of September, municipal hospitals must complete SARS-related training, set up an advance warning and tracking system, and stockpile enough medicines and other supplies.
The Health Ministry has recently resumed the practice of issuing daily bulletins on new SARS cases or suspected cases. So far, none have been reported.
China News Service quoted medical and weather experts in Shanghai as saying that a temperature range of 17 to 28 degrees Celsius might be relatively congenial for the outbreak of the SARS virus.
The experts said late October to mid-November might be a high-risk season for Beijing, and late November to mid-December, for Shanghai.