Yao inspires China into semi-finals
( 2003-09-29 09:20) (China Daily)
Unbeaten Asian powerhouses China and South Korea breezed into the semi-finals yesterday at the 22nd Sanjing Asian Men's Basketball Championships as their western neighbours Lebanon and Qatar also booked their berths.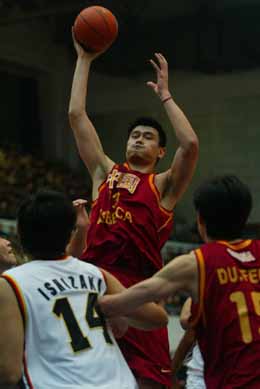 Yao Ming, centre with Houston Rockets, notched the game high with 26 points and 21 rebounds to lead China to demolish Japan 88-60.
Sharpshooting veteran Li Nan contributed 24 points and recovering Toronto Raptors centre Menk Bateer gained 17 points and four rebounds.
The game did not go as smoothly for China as in previous matches as the team exposed some problems on outside and defence.
Yao Ming said: "Our shooting percentage was not good today and we could not defend well against the three Japanese shooters."
Japan's Takuma Watanabe got the team high of 24 points, with Naoto Nakamura contributing 15 points and Maikeru Takahashi 10 points.
In the first quarter, China only led Japan 22-18 as so many errors occurred in shooting and defence.
Chinese head coach Jiang Xingquan said: "We didn't find the rhythm in either attack or defence and the shooting percentage was very low.
"The young players did not play well today." When 3 minutes and 40 seconds remained in the third quarter, the combination of the two NBA centres Ming and Bateer was seen for the first time on court.
But the so-called "twin tower" combination only stood for 6 minutes.
The head coach said: "When necessary, we will use this combination to strengthen the inside of the team.
"But it did not work well in the beginning. It was OK the rest of the time."
In other action, South Korea beat Kazakhstan 99-88, Lebanon upset India 117-82 and Qatar edged Iran 72-64.
On Saturday, China met their first strong rivals Lebanon, runners-up in the 2001 event, but the hosts took an easy win with 110-71. Yao Ming nailed down the game high with 33 points and 16 rebounds in 35 minutes of playing time.
However, South Korea - also title contenders - came back from a third-quarter deficit to edge out west Asian dark horse Qatar 87-80.
In the semi-finals tomorrow, China will meet Qatar, who came fifth in the 2001 Asian Championships in Shanghai.
South Korea and Lebanon will repeat the match of two years ago when Lebanon stopped the Koreans en route to the final by 73-72 in Shanghai tournament.