Suspects detained in massive sex scandal
( 2003-09-28 00:50) (China Daily)
Official from the Guangdong Provincial Bureau of Public Security Sunday confirmed that some suspects involved in a scandal concerning more than 400 Japanese male tourists said to have visited prostitutes in Zhuhai Special Economic Zone have been detained for questioning.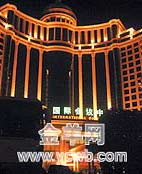 The Zhuhai International Convention Centre.

Without giving a specific figure on the number of suspects and prostitutes that have been detained, an official with the bureau who refused to be named said that the police planned a full investigation of the case.

He said that the hotel where a large number of Japanese allegedly visited prostitutes has been required to stop business pending further investigation.

The official also refused to reveal whether the suspects detained include Japanese tourists or not, saying that the case is still under investigation.

The provincial public security bureau has established a special task force to handle the case, the official said.

He reiterated that prostitution is illegal on the Chinese mainland and police never relent in the fight against illegal activities in the prosperous province which shares borders with Hong Kong and Macao.

Foreign Ministry spokesman Kong Quan said Sunday that it is a disgusting affair and that concerned Chinese authorities are also investigating the case and will punish the guilty in accordance with the law.

"Foreign citizens must obey Chinese laws here in China," Kong said. On September 16 and 17, more than 400 Japanese male tourists were suspected by local residents and other tourists of visiting prostitutes in the Zhuhai International Conference Centre Hotel, a local five-star hotel, said the official, adding that many of them were seen openly flirting with the suspected prostitutes, even in the lobby and lifts of the hotel.

The all-male Japanese tourist group, the oldest of which was 37, also included high school students about 16 years of age, according to the official.

A hotel manager who gave only his family name Chen told reporters that the Japanese probably picked up the prostitutes in a local night club and then brought them back to the hotel for illegal sex.

The Japanese tourists wanted to raise the Japanese national flag in the lobby of the hotel but the hotel refused their request, he added.

Many Chinese people were angered when they heard about the case, accusing the Japanese of humiliating the Chinese people at the time when the country was marking the 72nd anniversary of the "September 18 Incident,'' a day of national humiliation for Chinese people.

Japanese militarists deliberately created the "September 18 Incident" at Liutiaohu near the city of Shenyang, and subsequently invaded and occupied Northeast China.

The "September 18 Incident" marked the beginning of China's 14-year long bloody war against Japanese aggression.