New plan to ease traffic congestion
( 2003-09-28 16:18) (Xinhua)
Beijing will soon put out four measures to tackle traffic congestion, said Liu Xiaoming on September 27, spokesman of the traffic committee of the municipal government.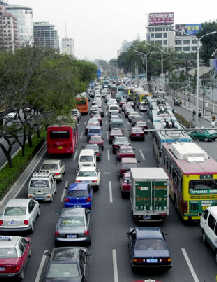 Vehicles crowd a street in downtown Beijing August 4, 2003. The number of registered automobiles in the Chinese capital topped 2 million Monday, including 1.28 million private ones, according to the local automobile administration. The massive amount of vehicles exerts great pressures on the city's traffic system. [Xinhua]
The four measures include: compile the "Essentials of the Traffic Development of Beijing"; put great efforts in developing public transportation and raising traffic efficiency; coordinate construction and administration to ease traffic pressure; strengthen the management of the traffic industry and road orders, and foster citizen's awareness of modern transportation.
The "Essentials of the Traffic Development of Beijing" will be a fundamental document guiding policy makers in planning the city's construction and management in traffic and service sectors, as well as a guideline harmonizing actions of different departments.
According to plan, Beijing will establish a cover-all modern public transport network with fast-speed ground transport and rail traffic as its backbone and ground regular passenger traffic as its main body.
Great efforts will be made in improving the layout of stations and stops as well as the interchange system linking bus and subway, so as to provide citizens with fast, convenient and safe traffic facilities and remarkably raise the proportion of going outs by public means. Construction will be accelerated for a batch of hubs for both passenger and cargo transports, to rationally link up different forms of facilities and thus raise transport efficiency.
Regarding rail traffic, Beijing will complete the Bawangfen-Tongzhou subway line before the end of 2003, the No.5, No. 4, No.10, No.9 subway lines as well as the Olympic sub-line and the airport special line before 2008, initially forming the city's rail transport framework and adding the rail operation mileage to 300 kilometers.
Beijing's total mileage for rail traffic will reach 220 km by 2004; the planned total mileage for expressway is 890 km, including 625 newly constructed km by 2004; the plan for high-speed way is 280 km, including 250 newly constructed km by 2004; a total length of 1,033 km common road will be built or re-built during 2004.
Adding a license tax for private sedan cars and a "congestion charge" is among considerations of every big city facing traffic jam, said Liu Xiaoming, and Beijing is no exception. Beijing is likely to raise its parking charge with reference to the standards of Shanghai, Nanjing, Guangzhou and other cities.