Zhuhai hotel closed after Japanese orgy
( 2003-09-28 15:08) (chinadaily.com.cn)
Hundreds of Japanese tourists and local prostitutes held a three-day orgy at a luxury hotel in southern China, sparking outrage of Chinese and prompting police to launch an investigation.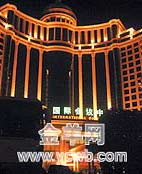 The Zhuhai International Convention Centre.

The five-star hotel where the orgy was reported to have been held has been closed pending investigations, a spokeswoman for the Guangdong Provincial Public Security Bureau told reporters.

"We are conducting an investigation into the case to find out whether media reports tally with reality," she said. "We have suspended the business of Zhuhai International Convention Centre Hotel."

Nearly 400 Japanese tourists were serviced by some 500 prostitutes from the coastal cities of Zhuhai and Shenzhen during their stay from September 16 to 18.

Media reports of the orgy have provoked outrage -- particularly on the Internet, where Chinese Web surfers accused the tourists of choosing the date for their high jinks to humiliate China and celebrate Japan's wartime behaviour.

September 18 marks the anniversary of Japan's occupation of northeastern China of 1931 -- an event remembered by many Chinese.

A message on the www.chinadaily.com.cn website said: "I only could tell my countrymates: whether we have forgotten the Nanjing Massacre?"

"This issue can't be taken as prostitution simply. Those Japanese wanna challenge our nation," said another message on the website.

"It's a trivial matter for Chinese prostitutes to sell sex, but the key is to look at the intentions of the Japanese devils," said a message on the www.sina.com.cn website. "They came on purpose for September 18."

Other messages described the orgy as a national shame.

According to media report tourists paid the prostitutes between 1,200 to 1,800 yuan a night (US$145 - US$215).