Quake aftershocks rattle northern Japan
( 2003-09-28 11:50) (Agencies)
Four aftershocks measuring 5.0 or stronger on the Richter scale rattled the northern Japanese island of Hokkaido on Sunday, two days after nearly 600 people were injured when a powerful quake jolted the region.
There were no reports of damage or casualties from the latest tremors but experts said people had to be on guard in the wake of the 8.0 quake that struck at dawn on Friday.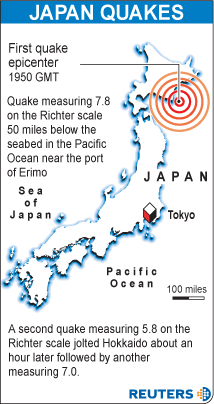 A series of powerful earthquakes jolted Japan's northern island of Hokkaido early on Sept. 26, 2003, causing power outages and a fire near an oil storage facility and prompting authorities to issue tidal wave warnings. [Reuters]

"We are urging everybody to remain alert because aftershocks could cause damage. They could trigger landslides because the earthquake has already weakened the ground," said an official at Japan's Meteorological Agency.

Of the Sunday aftershocks, one measuring 5.3 on the Richter scale struck at 7.23 a.m. (2223 GMT on Saturday).

A total of 37 aftershocks that could be felt by humans have hit the region since the Friday quake, the agency said.

Police said that at least 589 people were injured in the Friday quake.

About 300 police, fire and coastguard personnel resumed a search for two men who were fishing by a river when Friday's quake struck and might have been swept away by a tidal wave.

Chances of a major aftershock were diminishing but there was still significant danger, the Meteorological Agency official said.

"The possibility of strong aftershocks hitting the region is expected to decline as time goes by," the official said.

But there was still a 50 percent chance that aftershocks with magnitude of six or higher could rock the region in the next three days and a 10 percent possibility of aftershocks with magnitude of seven or higher, he said.

"Because the scale of Friday's earthquake was so big we assume that it could set off more aftershocks," he said.

The Friday quake destroyed or damaged more than 100 homes and forced about 13,000 people to evacuate, police said.

Quake-generated waves about one meter (three feet) high struck the east Hokkaido coast but no major wave damage was reported.

In 1993, a tsunami caused by a quake measuring 7.8 killed about 200 people on an island off western Hokkaido.

Japan is one of the world's most seismically active areas, with an earthquake occurring every five minutes.

Hokkaido, about the size of Austria, is the second largest of Japan's four main islands and has a population of more than five million. The capital, Sapporo, hosted the 1972 Winter Olympics.

Memories are still vivid in Japan of an earthquake in the western city of Kobe that killed more than 6,400 people eight years ago. That quake measured 7.2.

The Great Kanto earthquake of September 1, 1923, measured 7.9 and killed more than 140,000 people in Tokyo and the neighboring port city of Yokohama.

The last quake of 8.0 or higher in Japan was in 1994.