Strong north Japan quake injures 160
( 2003-09-26 08:56) (Agencies)
A strong quake with a magnitude of 8 rocked the northern Japan island of Hokkaido early Friday, injuring more than 160 people, knocking out power, derailing a train and touching off an industrial fire.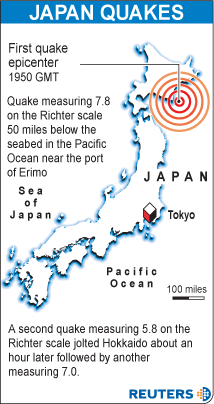 A series of powerful earthquakes jolted Japan's northern island of Hokkaido early on September 26, 2003, causing power outages and a fire near an oil storage facility and prompting authorities to issue tidal wave warnings. [Reuters]
Public broadcaster NHK reported that at least 164 people were hurt, including at least two seriously, in the quake, mostly by falling objects in their homes. It blacked out 16,000 homes and capsized fishing boats.
The quake struck at 4:50 a.m. and was centered in the Pacific, about 60 miles off Hokkaido's eastern shore. The U.S. Geological Survey in Golden, Colo., said the temblor had a preliminary magnitude of 8.
An earthquake of that magnitude is capable of causing tremendous damage.
A powerful aftershock of magnitude 7 followed shortly after 6 a.m., the U.S. Geological Survey said from Golden, Colo. Another aftershock was reported at 8 a.m. Its magnitude was not immediately known.
Japan's Central Meteorological Agency initially estimated the quake's magnitude at 7.8, but later revised that to 8.0.
The government warned local residents to avoid coastal areas due to the possibility of tsunami, or ocean waves caused by seismic activity. The meteorological agency said tsunami as high as 3 feet had hit the city of Kushiro.
The quake was focused off Hokkaido's eastern shore. It was strong enough to rock buildings on the island and shake books and other objects off shelves.
NHK reported that most of the injuries were caused by falling shelves and other toppled objects. One 70-year-old woman suffered a broken leg while trying to leave her house through a window, it said.
A fire started at an industrial plant in the city of Tomakomai, but no workers were reported injured, said Hokkaido prefectural police official Kuniyoshi Omori.
NHK showed giant flames and black plumes of smoke pouring from the site, which police said belonged to Idemitsu Co. Streams of water were aimed at the flames.
Omori said one person was injured when a local train carrying about 39 passengers derailed. Kushiro airport was closed temporarily after part of a roof caved in, and several roads were blocked by landslides, NHK said.
Hiroaki Tanaka, a Kushiro fire department official, said 50 people were treated there for bruises and broken bones. Hokkaido government official Hiroyuki Nakao said 31 people were injured, two of them seriously, in towns outside Kushiro.
He said the number was certain to increase as many areas had not yet reported damages.
NHK said a man cleaning up broken glass in a street was hit by an oncoming car and died, but there were no other immediate reports of deaths.
Huge cracks forced the closure of local highways, and blackouts of wide swaths of the island were reported. Regional airports also were closed for inspection.
Hokkaido Electric Power Co. official Yoshihiro Akiyama said it was unclear when power could be restored to the homes, mostly in the vicinity of Kushiro.
Television footage showed an office where books were knocked off shelves, and desks and computers swayed back and forth as the quake hit.
"We are now trying to collect information on the extent of the damage," local official Sadayuki Kano said. "There are no reports of other major damage."
The meteorological agency said the earthquake was focused 36 miles under the seabed.
In September 1923, a magnitude 8.3 quake hit Tokyo and Yokohama, killing at least 140,000 people.
In January 1995, a magnitude 7.2 temblor in Kobe killed more than 6,000 people.
Thursday's quake struck in the Pacific Ocean, about 65 miles south-southwest of Kushiro and 495 miles north-northeast of Tokyo, said John Minsch, a USGS geophysicist. The quake was shallow.
"That makes it more likely to be a tsunami, and there's most likely to be a great amount of damage," Minsch said.
Hokkaido is the northernmost and most sparsely populated of Japan's major islands. Sapporo is the prefecture's capital.
Japan is one of the world's most earthquake-prone countries. It sits atop four tectonic plates, slabs that move across the earth's surface.
Geophysicist Doug Given in Pasadena, Calif., said the region is "part of the Pacific Ring of Fire, the zone of very large earthquakes and volcanoes that rings the Pacific Rim."
Tsunami warnings and watches were issued throughout the Pacific but they later were canceled.