Two feared dead in Pearl River mishap
( 2003-09-26 01:13) (China Daily)
At least two workers are feared dead after a fishing vessel under construction in Guangzhou's Yuexin Shipyard broke from securing blocks and slid down its ways into the Pearl River on Wednesday afternoon.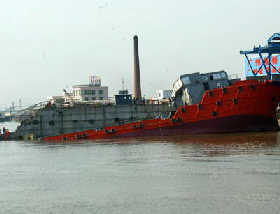 The front section of a ship under construction lies on the bank after it suddenly plunged into the Pearl River at a shipyard in Guangzhou, capital of South China's Guagndong Province, on September 23, 2003. At least two workers are presumed dead, and 10 others missing. [newsphoto.com.cn]

Many workers on the ship jumped into the water to save themselves as the vessel rushed into the river in Panyu District of Guangzhou, capital of Guangdong Province.

The two victims were welders who were working in the vessel's hold.

The accident took place at about 4:30 pm in Panyu's Dagang Township when the 1,000-tonnage fishing vessel suddenly broke its securings and slid into the river, where it quickly turned over and filled with water.

More than 10 workers were believed to be trapped inside the vessel.

Many local fishermen sailed their boats to the scene to help pull workers out of the water.

Local police and fire fighters also rushed to the shipyard to help in the rescue work and look into the cause of the accident.

The fishing vessel is one of two vessels the Yuexin Shipyard is building for a Dutch company.

The vessel, 90 per cent complete, is about 80 metres long with a beam of 20 metres, according to an official from the shipyard.

Local police are still trying to ascertain the cause of the accident.