Actor Hopkins gets star on Hollywood Walk of Fame
( 2003-09-25 11:38) (Agencies)
Oscar-winning actor Anthony Hopkins, star of the "The Silence of the Lambs," received a star Wednesday on the Hollywood Walk of Fame, realizing a dream he first had as a young actor in Wales.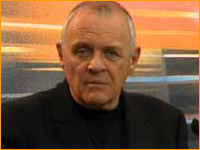 Hopkins, who attended the unveiling ceremony with his wife Stella and his co-stars, Jodie Foster from the "The Silence of the Lambs" and Gary Sinise from the upcoming film "The Human Stain," got the Walk's 2,237th star.
"When I became an actor my dream was ... to come here to Hollywood. You know Hollywood is a state of mind ... it's synonymous with a dream factory," Hopkins told cheering fans who gathered in front of the Kodak Theater, venue of the Oscar awarding ceremony.
The 65-year-old Welsh actor recounted that he paid his first trip to Hollywood in 1973, walking down the famed boulevard to Grauman's Chinese Theater and standing in Humphrey Bogart's footprints.
"It's all a dream," he said. "This is a very great symbol for me... because I never knew I would be out here as well. It's an honor."
Hopkins made his film debut in 1967's "The Lion in Winter," and has a successful career in Hollywood.
Hopkins won an Oscar for best actor as the cannibalistic genius Hannibal Lecter in "The Silence of the Lambs." He has also played the killer in the thrillers "Hannibal" and "Red Dragon."
His new movie "The Human Stain," the screen adaptation of Phillip Roth's novel "The Human Stain," is to be released on Oct. 31. He stars as a disgraced college professor whose desire for a much younger woman unravels his carefully constructed life.