Singapore quits SARS work, China goes on
( 2003-09-25 09:11) (China Daily)
A Singaporean research institute linked to the world's most recent SARS case will abandon its work on the coronavirus. But Chinese scientists will continue their work on severe acute respiratory syndrome (SARS) despite the decision overseas, an official said Wednesday.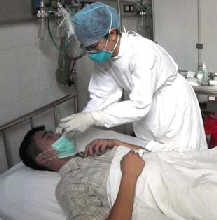 A healthcare worker treats a 'SARS' patient in an anti-SARS drill at Zhongshan No 3 Hospital in Guangzhou, capital of South China's Guangdong Province September 24, 2003. The municipal government of Guangzhou recently required hospitals that have been authorized to accept SARS patients to carry out tests of their emergency response systems. [Xinhua]
The Environmental Health Institute (EHI) of Singapore will stop all its research work on the SARS virus, China News Service reported Wednesday.
A report by the World Health Organization and the Ministry of Health of Singapore identified an EHI laboratory as the likely source of the SARS virus that infected a 27-year-old man.
Inappropriate laboratory procedures and a cross-contamination of West Nile virus samples with the SARS coronavirus in the laboratory led to the infection of the doctoral student. No evidence could be found of any other source of infection, the investigation team concluded.
An official from China's Ministry of Science and Technology said China's research into the SARS virus and other aspects of the disease would not be affected by the accident in Singapore.
The source of the virus and how it begins to infect human are still unknown. However, military experts from Beijing have found a group of healthy people who had antibodies to SARS before it broke out in South China's Guangdong Province, where the first case was reported last November, China News Service reported Wednesday.