President Hu meets Russian PM
( 2003-09-24 19:39) (Xinhua)
President Hu Jintao said Wednesday that deepening the China-Russia strategic partnership of cooperation complies with the fundamental interests of the two peoples.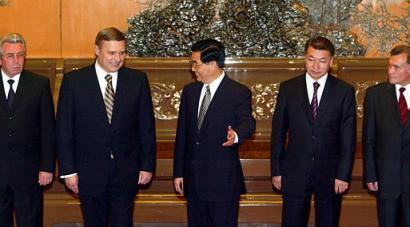 President Hu Jintao (C) gestures to prime ministers of the six-nation Shanghai Cooperation Organization as they head for talks in Beijing Tuesday, Sept. 23, 2003. Prime ministers from China, Russia and four Central Asian nations agreed Tuesday to closer security cooperation and trade ties across their 7-year-old regional grouping. From left to right are: Kyrgyz Nikolai Tanayev, Russia's Mikhail Kasyanov, China's Hu Jintao, Kazakh Daniyal Akhmetov and Tajik Akil Akilov. [AP]


At a meeting with Russian Prime Minister Mikhail Kasyanov in Beijing, who is here for an official visit, Hu said in recent years, China and Russia had made full use of the cooperative mechanisms between the two governments and actively implemented the important consensus reached by their leaders.

Stronger and deeper strategic cooperation was the common choice and complied with the fundamental interests of the two peoples, which was conducive to regional and world peace, stability and development, Hu said.

China would strictly follow the China-Russia treaty on good- neighborly friendship and cooperation and other important documents, and join with Russia to push forward the strategic cooperative partnership.

Hu said economic and trade cooperation was an important component of strategic cooperation, which was significant to boosting economic growth and building the foundations of good- neighborly friendship and cooperation.

Hu urged the two sides to balance interests and further improve economic and trade cooperation under the principle of mutual benefit and support so as to instill new power to the strategic cooperative partnership.

Kasyanov said he was glad to see cooperation proceeding with important achievements.

The Russian prime minister, who led a high-level delegation of officials from Russian central and local governments on the visit, said governments and enterprises of the two sides had held in- depth discussions on furthering bilateral economic and trade cooperation.

Russia hoped the two sides could work together to adjust trade structure and increase investment so as to uplift bilateral trade volume.

Kasyanov said Russia and China had deep mutual understanding and trust. He believed the goals set by the two governments would be realized.