China, Russia, Central Asia PMs meet on cooperation
( 2003-09-23 15:06) (chinadaily.com.cn)
Prime ministers of China, Russia and four Central Asian countries met in Beijing on Tuesday where they discussed economic cooperation and a plan to set up a regional anti-terrorism base in Uzbekistan.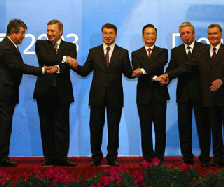 Prime ministers from the six members of the Shanghai Cooperation Organization (SCO) pose for a photo at Beijing Hotel in Beijing September 23, 2003. [newsphoto.com.cn]
The leaders, from China, Russia, Kazakhstan, Kyrgyzstan, Tajikistan and Uzbekistan, discussed a budget for the Shanghai Cooperation Organisation (SCO) and try to increase economic ties, the Chinese foreign ministry said.
During the meeting with prime ministers of the SCO members, Chinese Premier Wen Jiabao made three proposals to boost regional economic cooperation.
The proposals are:
-- To promote the facilitation of trade and investment in a bid to realize the smooth circulation of goods within the framework of the SCO as well as to reduce and eliminate non-tariff barriers like those in customs service, quarantine, standards and transportation.
-- To set certain large projects on economic and technological cooperation and give priority to those in transportation, energy, telecommunication, agriculture, home appliances, light industry and textile.
-- To set a long-term objective for regional economic cooperation and gradually set up a free trade zone within the SCO.
After Tuesday morning's talk, the six prime ministers signed six documents, covering multi-lateral economic and trade cooperation among SCO members, SCO budget for the year 2004, rules and regulations on salary guarantee and allowances for staff members of the SCO permanent body, local anti-terrorism institution and personnel arrangement, technical initiation of the SCO permanent body, and a joint communique of the consultation.
The SCO, which was established as the Shanghai Five in 1996 admitted Uzbekistan in 2001 and shifted focus to combatting terrorism.
The SCO plans to establish a regional anti-terrorism headquarters in the Uzbek capital of Tashkent and a secretariat by the end of the year. The centre was originally planned for the Kyrgyz capital of Bishkek.
Li Hui, director of the Chinese Foreign Ministry's Europe and Central Asia division, told reporters last week the leaders would discuss institutionalising the group's structure and regional economic cooperation.