Bush says Sino-US relations full of vitality
( 2003-09-23 14:33) (Xinhua)
US President George W. Bush said Monday that the present US-China relationship is full of vitality, and this is vital for the two countries.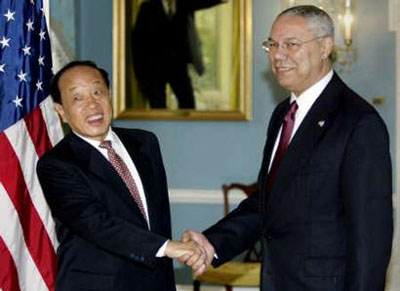 Li Zhaoxing shakes hands with U.S. Secretary of State Colin Powell after meeting with Bush. [Reuters]
He said this during talks with visiting Chinese Foreign Minister Li Zhaoxing, Chinese diplomats said.
The United States is willing, together with China, to continue pushing forward the bilateral relationship, Bush said at a meeting with Li, who arrived in Washington on Sunday on his first visit to the United States since he became the Chinese foreign minister in spring.
Bush reiterated that the United States adheres to the one-China policy, abides by the three joint communiques between the two nations and opposes the "independence of Taiwan."
He spoke highly of the constructive role China has played in the international affairs, including the nuclear issue of the Democratic People's Republic of Korea and Iraq.
Bush also said he looks forward to meeting again with Chinese President Hu Jintao during a forthcoming meeting of the Asia-Pacific Economic Cooperation (APEC) forum set to be held in Thailand next month, and to an early visit by Chinese Premier Wen Jiabao to the United States.
Li said the two countries have recently made fresh headway in exchanges and cooperation in all fields, adding that the coming meeting between the leaders of the two countries will be of significance in promoting the development of the bilateral relationship.
Li said that both China and the United States have witnessed a rapid development in economic and trade cooperation, and such a cooperation of mutual benefits has given an impetus to the prosperity of the two countries.
He said China will work with the United States to enhance dialogue and cooperation in the realms of economy, trade and finance, and continue promoting the economic stability and growth in the two countries and the world as a whole.
Sino-US cooperation in economy and trade, as well as the anti- terror fight and other world issues, has proved that the two countries have shared extensive and important interests, Li noted. He added that this will contribute to peace, stability and prosperity in the region and the whole world.
On the Taiwan issue, the Chinese foreign minister said it has been the most important and sensitive issue in the Sino-US relationship, and he hopes the US side takes it seriously and, with actual deeds, abides by the one-China policy and complies with the three joint communiques.
Li also stressed that China's new leadership has attached great importance to the Sino-US relationship and will work with the US side to push forward the constructive relationship of cooperation between the two nations in a stable and healthy way.
Also on Monday, Li met with US Vice President Dick Cheney, national security advisor Condoleezza Rice and had talks with Secretary of State Colin Powell.