The short and not-so-sweet of it
( 2003-09-23 10:03) (China Daily HK Edition)
The old saying of putting all eggs in one basket cuts both ways for Chinese Internet portals Sina Corp, NetEase.com, Sohu.com and Tom.com.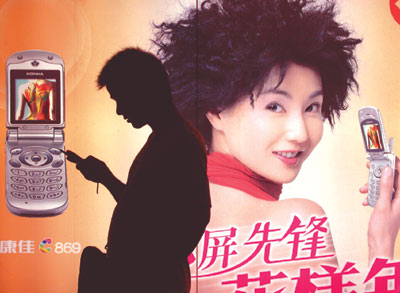 Revenues from SMS have become a major source of income for most domestic portal websites, but there are fears that the heavy reliance on a single source will lead to risks in these companies' performance. [newsphoto.com.cn]
While income from mobile phone short messaging service (SMS) lifted the companies out of losses and led to soaring stock prices on the NASDAQ, any change in China's mobile telecom market may rock the boat for the companies.
Among the warning signals are China Mobile's recent policy changes towards its service providers (SPs); and the slow-down of mobile telecom subscribers in the first half.
Warnings
The heavy reliance of the four Chinese Internet portals on revenue sharing with China Mobile and China Unicom has been a major risk in many people's eyes.
Revenues generated from SMS to mobile phone users via Sina's website accounted for about 44 per cent of the company's total of US$26 million, while the proportion for NetEase.com was about 41 per cent.
However, China Mobile's requirement in June that all SMS websites stop alliances with other website operators which are not the telecom carrier's SPs is seen as hurting revenues.
The move is believed to be aimed at pornographic content on smaller websites, which are also accused of often charging users without giving sufficient information.
Although most SPs have had the alliances for only a few months; and revenues from their minor allies are quite small, China Mobile's move is significant.
"The termination of website alliances will cause some losses to us, but I think the stricter regulation from the operator's side is helpful to the long-term development of the industry," said Wang Xin, a vice-president of Sina Corp said.
Sina, NetEase and Sohu have since stopped all such alliances accordingly.
Another directive from the country's biggest mobile carrier was that all SPs stop charging users for any content other than SMS, ringtones and picture downloads.
A major area of complaints from consumers was they are charged for some content they do not actually use or know.
For example, Lao Qian, a mobile phone user in Beijing, received a short message which said: "You have successfully subscribed to the movie video on demand (VOD) on our website. Please confirm your identity on our website and do not reveal your password to other people."
The result was that Lao Qian had to pay 30 yuan (US$3.62) per month, although he did not watch any movie on that website.
If the termination of website alliances and SMS payment has only a minimal impact on the Internet companies, one concern is a possible change in revenue sharing.
With the increase of SMS incomes and good performance on the stock market of Sina, Sohu and NetEase, some insiders said China Mobile has been trying to change the revenue-sharing proportion with SPs.
Currently, Chinese Internet users spend 0.10 yuan (1.2 US cents) for every text message sent to mobile phone users and 0.90 yuan (11 US cents) for a multimedia message.
SPs like Sina get 85 per cent of the money for the content, while mobile carriers get the rest.
Although executives from China Mobile declined to comment on changes in the revenue structure, it is the biggest risk that the major portals face, according to a report by US Bancorp Piper Jaffray, which is said to be the only US investment banking firm covering the three NASDAQ-listed Chinese Internet businesses.
At the same time, China Mobile is also trying to bundle the content of its SMS platform Monternet with mobile phone makers.
Panasonic and Sony Ericsson have already pre-set Monternet into their general packet radio switching (GPRS) mobile phones which have Internet connection. China Mobile is also talking with other makers on similar deals.
The slowdown of the growth of Chinese mobile subscribers is a wider danger to the Internet portals.
According to the statistics from the Ministry of Information Industry, Chinese mobile telecom operators added 33.45 million new subscribers in the first seven months; and the monthly average was 4.78 million, compared with 5.06 and 5.07 million in 2001 and 2002 respectively - which could dampen SMS growth.
Not all gloom
Safa Rashtchy, principal and senior technology analyst with Piper Jaffray, downgraded the risks posed by China Mobile's policy changes after a visit to the mainland last week.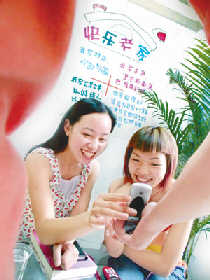 Sending SMS has become a "cheap and cool" thing for Chinese youngsters. [newsphoto.com.cn]
"A major outcome of my visit is that I think the risk we assumed from mobile companies is much smaller," he said in an interview with China Daily.
While the termination of website alliances may have some impact on the Chinese portals in the third quarter, it won't dampen their growth prospects.
"US investors do not really understand the China market and how big it is here," Rashtchy said.
Michael Yin, director and chief analyst of Ploutos Investment Consulting (Shanghai) Ltd, which focuses on China's Internet industry, agreed with Rashtchy.
"With their influence well established in China and their role as China-concept stocks on the NASDAQ, China Mobile will be careful in handling relations with Sina, Sohu, and NetEase," said Yin
Sing Wang, chief executive officer (CEO) of Tom.com, said the estimated revenues of China Mobile would be around 170 billion yuan (US$20.53 billion) with 9 billion yuan (US$1.1 billion) from short messages; of which only about one-tenth is expected to go to SPs including his company - the mobile carrier does not need to fight with its partners.
Besides, Japanese telecom operator NTT Docomo, an example of SMS success, has more than 6,000 SPs, because it cannot do all the work in the industrial chain by itself, while China Mobile has about 600 SMS content providers.
According to NetEase CEO Ted Sun, his company has renewed the agreement on SMS with China Mobile; and some terms in the new version are even more favourable to the portal.
As to the slowdown of mobile subscriber growth, executives and analysts were not unduly worried.
"In the near term, the decline will not be very sharp and we still need to wait and see the trend," said Michael Yin.
Sing Wang with Tom.com cited the example of Japan to show the potential of the SMS market.
"In Japan, about 50 per cent of mobile phone users send short messages, but in China the ratio is only about 10 per cent according to my estimation, so there is a large difference there," Sing said.
He believes that with the price cuts of mobile phones and subscription fees, many middle school and even primary school students might start using mobile services, especially short messages, which are "cheap and cool".
Tom's CEO pointed out that the advancement of technologies will also bring more short message applications and further expand its use.
He revealed that the multimedia short messaging service (MMS), started by China Mobile on April 1, would be another opportunity.
The Hong Kong-based multimedia platform said its MMS subscribers has reached 200,000, about half of the total of China Mobile; and they send an average of 20,000 messages a day.
According to Shanghai Research Consulting Co Ltd, an Internet market research firm, the web-based short message market would reach 2.77 billion yuan (US$335 million) this year, compared with 920 million yuan (US$111 million) last year.
The market will further expand to 4.43 billion yuan (US$535 million) next year and 10.6 billion yuan (US$1.28 billion) in 2006 with the popularity of MMS and increase of number of users.