Suicide bomber targets UN Baghdad HQ, kills guard
( 2003-09-23 09:41) (Agencies)
A suicide car bomber blew himself up near United Nations headquarters in Baghdad on Monday, also killing a security guard and wounding 19 people, a month after a huge truck bomb devastated the building.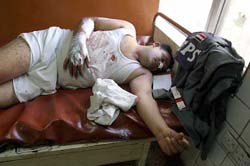 An injured Iraqi policeman waits for medical attention at the Kande Hospital after a car bomb explosion in the parking lot of the Hotel Canal beside the United Nations headquarters in Baghdad Sept. 22, 2003. A suicide car bomber blew himself, killing a security guard and wounding 19 people, a month after a huge truck bomb devastated the building. [Reuters]

U.N. Secretary-General Kofi Annan expressed dismay at the attack, launched on the eve of a General Assembly meeting in New York which an Iraqi delegation is due to attend.

"We need a secure environment to be able to operate," Annan said at U.N. headquarters in New York. "We will go forward but of course if it continues to deteriorate, then our operations will be handicapped considerably."

One of Iraq's representatives, Governing Council member Akila al-Hashemi, was critically wounded on Saturday in an assassination attempt in Baghdad.

Capt. Sean Kirley, a U.S. officer at the scene of Monday's blast, 250 yards from the U.N. building where 22 people died last month, described it as a suicide attack.

Kirley said the bomber drove into the U.N. parking lot and was stopped by an Iraqi security guard.

The blast blew the car in half, killing the driver and the guard. A burned-out hulk was all that remained of the vehicle.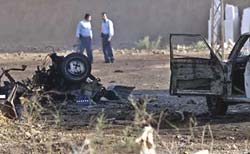 Two Iraqi policemen view the remains of a car in a parking lot after a bomb explosion near the United Nations headquarters in Baghdad, Sept. 22, 2003. [Reuters]

"The driver and the guard engaged in conversation and the bomb was detonated from inside the vehicle," Kirley said.

He said the bomber had been aiming for the U.N. building but was deterred by the security. "He wanted to get into the U.N. headquarters and he changed his target," he said.

Elsewhere in Iraq, men in two cars attacked a police station in the southern city of Basra with guns and explosives, wounding nine policemen, a senior police officer said. In the northern city of Mosul, assailants fired rocket-propelled grenades at a police station, wounding a number of policemen and bystanders, local officials and witnesses said.

Annan, opening an international conference on terrorism, said those fighting militancy must also hold out the promise of a better and fairer world.

"If we do not, we shall find ourselves acting as a recruiting sergeant for the very terrorists we seek to suppress," he told world leaders.

'STRUGGLE FOR FREEDOM'

However, French President Jacques Chirac, in New York for the U.N. session, said that when a country is under foreign occupation, terrorism "unjustly captures the struggle for freedom for its own ends." He did not mention directly the U.S.-led war in Iraq, which France opposed.

"As the fate of the West is bound up with that of the ailing Middle East, wealthy nations must hold out to that region the hope of "development and democracy, modernity, openness to the outside world, and dialogue," Chirac said.

In Washington, the United States rejected a French proposal to hasten Iraqi sovereignty as President Bush prepared to ask the United Nations to back his view of a gradual, U.S.-led Iraqi transition.

"The French plan which would somehow try to transfer sovereignty to an unelected people just isn't workable," U.S. national security adviser Condoleezza Rice told reporters

Bush met with two members of Iraq's Governing Council, who said it was too early for full Iraqi self-government.

"We are ready to be patient, we don't want to rush," Iraqi public works minister Nisreen Berwari said.

Bush is to address the United Nations General Assembly on Tuesday. With U.S. public support for his Iraq policy slipping, Bush is expected to defend his decision to go to war in Iraq in March without U.N. backing, and seek new support for the U.S.-led occupation of Iraq without giving the global body the broader political role sought by some members.

A new USA Today/CNN/Gallup poll found U.S. public support for the Iraq war had fallen to 50 percent from 76 percent in April, while 48 percent believed the war was not worthwhile.

The poll also showed Bush's approval rating at 50 percent, the lowest level of his presidency, and showed him narrowly trailing two potential Democratic re-election challengers.

On Capitol Hill, Paul Bremer, the U.S. administrator in Iraq, urged Congress to give quick approval to funds sought by Bush to rebuild the country.

Appearing before the Senate Appropriations Committee, Bremer compared the $87 billion Bush wants largely for Iraq to the post-Word War II Marshall plan that transformed Europe "after a thousand years as a cockpit of war ... to the cradle of peace in just two generations."

"Iraq cannot realize its potential to return quickly to the world stage as a responsible player without the services essential to modern society," Bremer told the committee.

Commenting on the fatal shooting by U.S. troops of a Reuters television cameraman last month in western Baghdad, a U.S. spokesman said the soldiers followed military rules.

"Although it's a regrettable incident, the investigation has concluded U.S. forces personnel acted in accordance with the rules of engagement," Lt. Col. George Krivo said from Baghdad.

Mazen Dana, an award-winning Palestinian cameraman, was killed by a U.S. soldier on a tank.